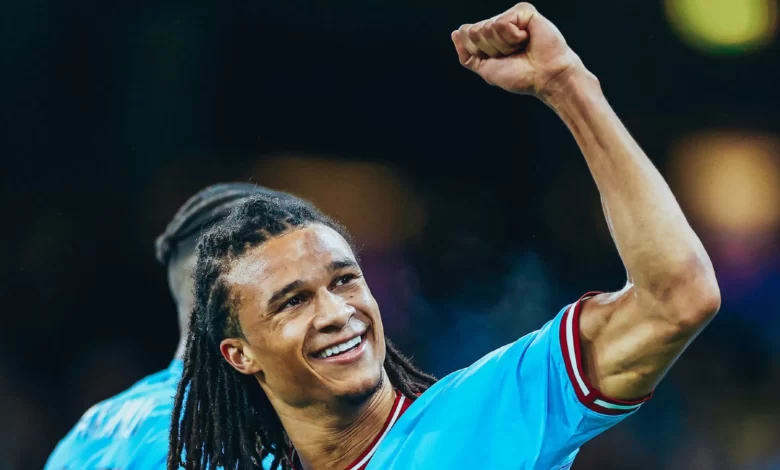 After a hard-fought 1-0 victory over strong opponent – Arsenal, Manchester City defender Nathan Ake had plenty to say about the team's performance.
Reflecting on the match, he noted that the team struggled in the first half due to the opponent's high press, but found their footing in the second half and were able to play more to their strengths. Ake stated, "The second half we were better, we played more our game. It was tough. Their press was high so it was difficult to play out."
Ake himself scored the game's only goal, and he was pleased with the assist from teammate Jack Grealish, as well as the fact that it was his first goal scored with his right foot. He said "It was a good pass from Jack, I think it's the first one I've scored with my right so I was pleased with that!"
But for Ake, the most important takeaway from the game was the team's resilience and determination. He stressed that staying strong and not conceding a goal was crucial to the team's success, and that this is something they will need to continue to show in the upcoming matches.
"It's good you know, especially after a tough period. It's good to carry on and we take this as a tough opponent and to win 1-0 to go into the next round gives us confidence for the next game and the games to come," said Nathan Ake.
He went on to add "There's more to come, today was about resilience, we stayed strong and made sure we didn't concede, that's what we need to show more of ourselves."
Looking ahead, Ake is optimistic about the team's prospects in the league, saying "there's more to come" from Manchester City. With the confidence gained from this victory, they are ready to take on whatever challenges come their way.
Watch Nathan Ake's post match message to all Manchester City fans via the video below.
Match winner's message! 📣

🔵 1-0 🔴 #ManCity pic.twitter.com/yTQz6NDSxw

— Manchester City (@ManCity) January 27, 2023