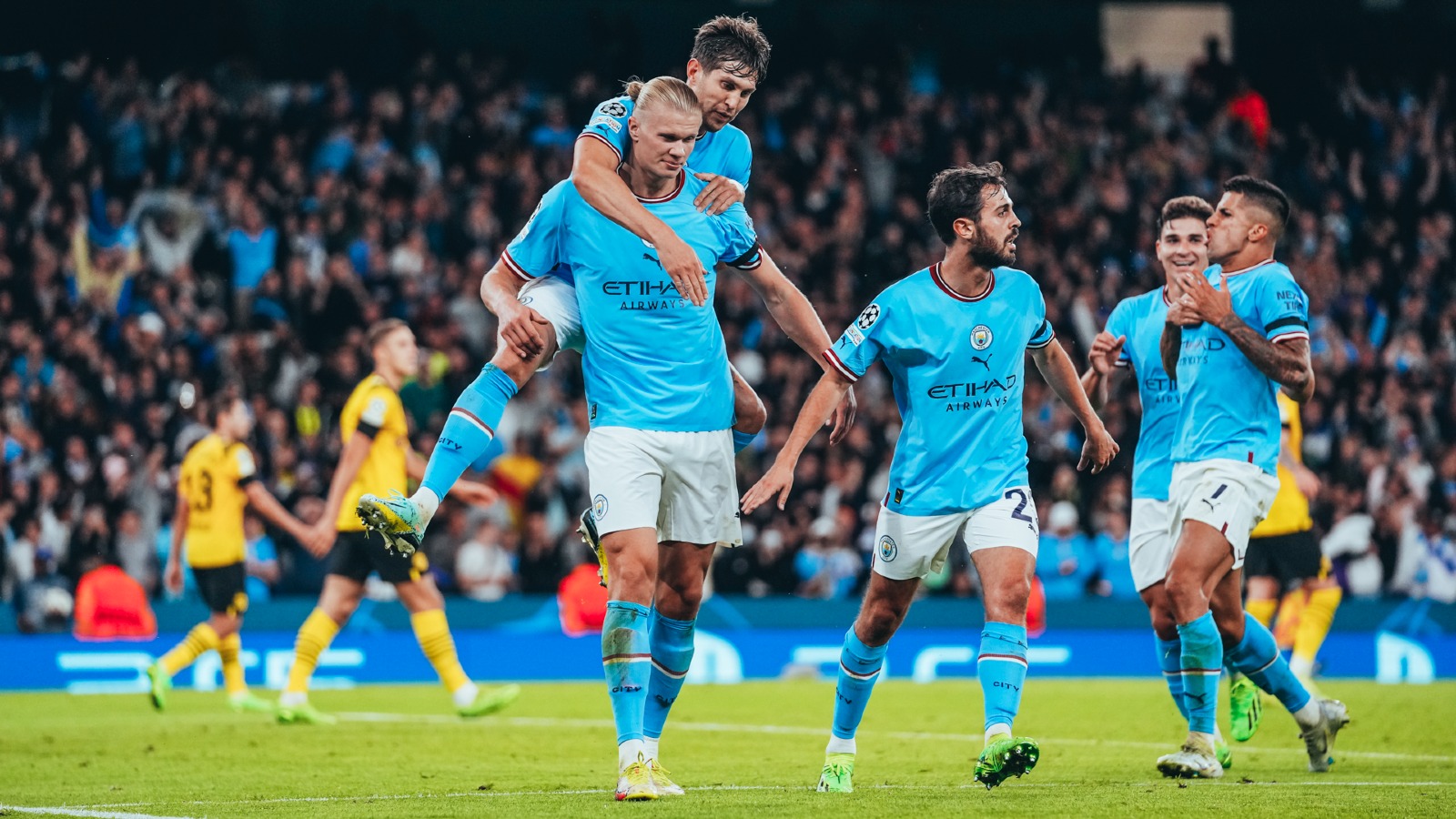 Incredible strikes from John Stones and Erling Haaland saw Manchester City come from behind to beat Borussia Dortmund 2-1 in the UEFA Champions League.
Jude Bellingham's close-range header early in the second half looked like it could be the difference on a generally frustrating night for Pep Guardiola's men. But Stones' unstoppable drive with ten to play, followed by a phenomenal acrobatic finish from Haaland, turned the game on its head in the space of four second half minutes.
It means City have now equaled the record for the longest unbeaten home run by an English side in the Champions League, with our 21st match without defeat seeing us move three points clear at the top of Group G.
Erling Haaland has now scored 26 goals in 21 UEFA Champions League games. Speaking in a post-match interview, the Norwegian striker expressed his thoughts on the match.
"In the end we showed what we are, this is what we are and this is how we have to play. I'm proud of the last 20 25 minutes. Two wonderful goals today, mine was a bit better honestly! Nice cross from Cancelo", Haaland said.
"They didn't stop me… I scored. They played well. They were good. I was quite sure I was going to be followed the whole game because Edin [Dortmund boss Terzic] knows me very well. Dortmund were really good today. Three points is what matters".
Not forgetting the stunning goal scored by John Stones to level the match, the English defender expressed his thoughts on the strike.
"I try and take up those positions. The manager wants us in those sorts of areas for things like that and to control the counter attack as well. We were in good positions to pick up the pieces and it was one of those things. I was getting a few shouts and I decided to pull the trigger" Stones said.
"It was difficult, we were not at our best tonight. First half we made it difficult, we didn't use the ball well and had sloppy passes. We had some stern words at half-time between each other to change that and we did".
Pep Guardiola's Post-match Verdict
"Maybe the people who know me know the influence of Johan Cruyff in my life as a person, mentor manager. Years ago he scored in Camp Nou and scored a goal v Atleti, it was quite similar to Haaland and the moment he scored it I felt Cruyff, it was quite similar.
A really good one, the assist from Joao was exceptional. He has the ability. The simple things he has to make these actions, I know he can do it but you can't force it. I know he does it quite often and has a desire to improve. The finish was exceptional.
It was quite similar two years ago when we played Dortmund in the quarter-final of CL to reach the second semi-final when Phil scored in the last few minutes.
We had a lot of problems to get rhythm and were so passive in transition. We struggled, we played in the wrong gear and we are who we are, we can win or lose, when we play the last 35 mins we realise okay we are 1-0 down and subs come on and give a new rhythm.
After you can lose but this is who we are, Champions League doesn't wait, it doesn't forgive you. They defend really well and what happened two years ago hopefully we can learn a lesson on sat v one of the toughest opponents in Wolves. Hopefully that will help in the second half".
EXTENDED MATCH HIGHLIGHTS: MAN CITY 2 – 1 DORTMUND