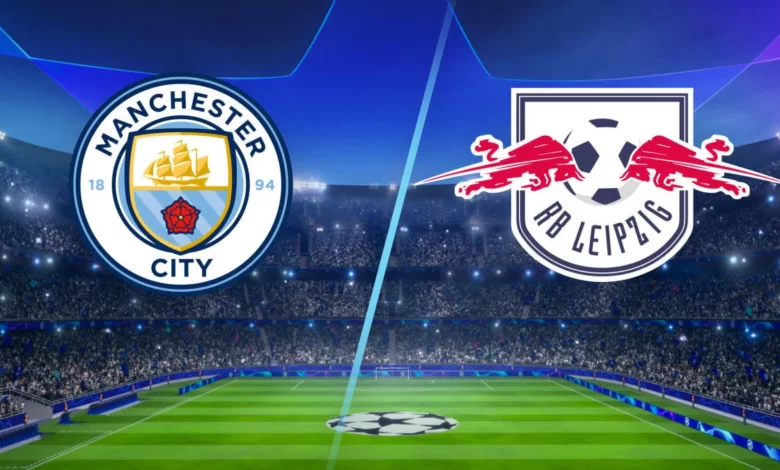 Get ready for an exciting UEFA Champions League last-16 first leg as Manchester City takes on RB Leipzig on Wednesday 22 February at Red Bull Arena.
The match kicks off at 20:00 UK time or 22:00 Central African time and will be broadcast live on BT Sport 1 and BT Sport Ultimate. Don't worry if you're not in the UK, you can check out the global TV listings at the bottom of this page.
Stay up-to-date with key moments from the match by following @CityNewsCentre on Twitter. But first, here's what you need to know.
Pep Guardiola's men will have to do without Kevin De Bruyne and Aymeric Laporte, both of whom are out due to illness. They were left out of the 22-man travelling squad, along with John Stones who is also ruled out. Guardiola said, "It is what it is. During the season, unfortunately sometimes that happens. They didn't feel good right after the game against Nottingham [Forest]. Yesterday Aymer didn't feel well. Other players are going to play. That happens sometimes."
In their previous meeting, City lost 2-1 away at RB Leipzig in the Group A finale of the 2020/21 season. However, they're on an undefeated streak in their last three Champions League matches with two wins and one draw. Meanwhile, Leipzig has one win, one draw, and one loss in their last three encounters.
City was held to a 1-1 draw by Nottingham Forest on the weekend, while Leipzig blew Wolfsburg away 3-0. In the Premier League, City sits in second place, while Leipzig is fifth in the Bundesliga.
Excited for the match? Don't miss a moment of the action and tune in to the live broadcast on BT Sport. Check out the global TV listings below to find out where you can watch it from around the world courtesy of livesoccertv.com.
| | |
| --- | --- |
| Algeria | beIN 4K Arabia, beIN SPORTS CONNECT, beIN Sports English, TOD |
| Andorra | RMC Sport 1 |
| Angola | DStv Now, SuperSport Football Plus ROA, SuperSport MaXimo 1 |
| Anguilla | Flowsports.co, Flow Sports App |
| Antigua and Barbuda | Flow Sports App, Flowsports.co |
| Argentina | Star+ |
| Aruba | Flowsports.co, Flow Sports App |
| Australia | Stan Sport |
| Austria | Sky Sport Austria 1, DAZN, servustv.com, Servus TV, Sky Sport Austria 2 |
| Bahamas | Flowsports.co, Flow Sports App |
| Bahrain | TOD, beIN 4K Arabia, beIN SPORTS CONNECT, beIN Sports English |
| Bangladesh | Sony LIV |
| Barbados | Flowsports.co, Flow Sports App |
| Belgium | VTM 2, Pickx+ Sports 2 |
| Belize | ESPN Norte |
| Benin | SuperSport Football Plus ROA, SuperSport MaXimo 1 |
| Bermuda | Flowsports.co, Flow Sports App |
| Bhutan | Sony LIV |
| Bolivia | ESPN2, Star+ |
| Botswana | SuperSport Football Plus ROA, SuperSport MaXimo 1, DStv Now |
| Brazil | HBO Max |
| British Virgin Islands | Flow Sports App, Flowsports.co |
| Brunei | beIN Sports 1 Thailand, beIN Sports Connect Malaysia, beIN Sports Connect |
| Bulgaria | Voyo Sport, bTV Action |
| Burkina Faso | DStv Now, SuperSport MaXimo 1, SuperSport Football Plus ROA |
| Burundi | DStv Now, SuperSport MaXimo 1, SuperSport Football Plus ROA |
| Cambodia | beIN Sports 1 Thailand, beIN Sports Connect |
| Cameroon | SuperSport Football Plus ROA, DStv Now, SuperSport MaXimo 1 |
| Canada | DAZN |
| Cape Verde | DStv Now, SuperSport Football Plus ROA, SuperSport MaXimo 1 |
| Cayman Islands | Flowsports.co, Flow Sports App |
| Central African Republic | SuperSport Football Plus ROA, SuperSport MaXimo 1 |
| Chad | SuperSport Football Plus ROA, DStv Now, beIN 4K Arabia, beIN Sports English, TOD, beIN SPORTS CONNECT, SuperSport MaXimo 1 |
| Chile | Star+ |
| China | QQ Sports Live, Migu, iQiyi |
| Colombia | ESPN2, Star+ |
| Comoros | SuperSport MaXimo 1, SuperSport Football Plus ROA |
| Congo | SuperSport Football Plus ROA, DStv Now, SuperSport MaXimo 1 |
| Congo DR | SuperSport MaXimo 1, SuperSport Football Plus ROA |
| Costa Rica | Star+, ESPN Norte |
| Cote D'Ivoire | SuperSport Football Plus ROA, SuperSport MaXimo 1, DStv Now |
| Croatia | Arena Sport 1 Croatia |
| Cyprus | Cytavision Sports 3, Cytavision on the Go |
| Czech Republic | Nova Sport 3 |
| Denmark | Viaplay Denmark |
| Djibouti | SuperSport Football Plus ROA, SuperSport MaXimo 1, beIN 4K Arabia, beIN SPORTS CONNECT, TOD, beIN Sports English, DStv Now |
| Dominica | Flow Sports App, Flowsports.co |
| Dominican Republic | Star+, ESPN Norte |
| Ecuador | ESPN2, Star+ |
| Egypt | beIN 4K Arabia, beIN SPORTS CONNECT, beIN Sports English, TOD |
| El Salvador | ESPN Norte, Star+ |
| Equatorial Guinea | SuperSport MaXimo 1, DStv Now, SuperSport Football Plus ROA |
| Eritrea | DStv Now, SuperSport Football Plus ROA, SuperSport MaXimo 1 |
| Estonia | Viaplay Estonia |
| Ethiopia | SuperSport MaXimo 1, SuperSport Football Plus ROA, DStv Now |
| Finland | C More Suomi |
| France | Canal+ France, RMC Sport 1, RMC Sport en direct, Free |
| Gabon | DStv Now, SuperSport Football Plus ROA, SuperSport MaXimo 1 |
| Gambia | DStv Now, SuperSport Football Plus ROA, SuperSport MaXimo 1 |
| Georgia | Adjarasport TV |
| Germany | DAZN, Servus TV, DAZN1 |
| Ghana | SuperSport Football Plus ROA, DStv Now, SuperSport MaXimo 1 |
| Greece | Cosmote Sport 2 HD |
| Grenada | Flowsports.co, Flow Sports App |
| Guatemala | Star+, ESPN Norte |
| Guinea | SuperSport Football Plus ROA, SuperSport MaXimo 1, DStv Now |
| Guinea-Bissau | DStv Now, SuperSport MaXimo 1, SuperSport Football Plus ROA |
| Honduras | Star+, ESPN Norte |
| Hong Kong | beIN Sports Connect Hong Kong, beIN Sports 3 Hong Kong |
| India | Sony LIV, JioTV |
| Indonesia | Vidio |
| Iran | TOD, beIN 4K Arabia, beIN SPORTS CONNECT, beIN Sports English |
| Iraq | beIN 4K Arabia, beIN Sports English, TOD, beIN SPORTS CONNECT |
| Ireland | BT Sport 1, TalkSport Radio UK, BBC Radio 5 Live, BTSport.com, LiveScore App, BT Sport App |
| Italy | Sky Sport Uno, Sky Sport 4K, Sky Sport 251, NOW TV, SKY Go Italia, Sky Sport Football |
| Jamaica | Flowsports.co, Flow Sports App |
| Japan | WOWOW Prime |
| Jordan | TOD, beIN 4K Arabia, beIN SPORTS CONNECT, beIN Sports English |
| Kenya | SuperSport Football Plus ROA, SuperSport MaXimo 1, DStv Now |
| Kosovo | ArtMotion |
| Kuwait | beIN SPORTS CONNECT, beIN Sports English, beIN 4K Arabia, TOD |
| Laos | beIN Sports Connect, beIN Sports 1 Thailand |
| Latvia | Viaplay Latvia |
| Lebanon | beIN 4K Arabia, beIN SPORTS CONNECT, TOD, beIN Sports English |
| Lesotho | DStv Now, SuperSport Football Plus ROA, SuperSport MaXimo 1 |
| Liberia | SuperSport Football Plus ROA, DStv Now, SuperSport MaXimo 1 |
| Libya | beIN Sports English, TOD, beIN 4K Arabia, beIN SPORTS CONNECT |
| Liechtenstein | Blue Sport, Blue Sport 4, Blue Sport 2 |
| Lithuania | Viaplay Lithuania |
| Luxembourg | RMC Sport 1, Pickx+ Sports 2 |
| Macau | iQiyi |
| Madagascar | SuperSport MaXimo 1, SuperSport Football Plus ROA, DStv Now |
| Malawi | DStv Now, SuperSport Football Plus ROA, SuperSport MaXimo 1 |
| Malaysia | beIN Sports Connect Malaysia |
| Maldives | Sony LIV |
| Mali | SuperSport MaXimo 1, DStv Now, SuperSport Football Plus ROA |
| Mauritania | beIN Sports English, TOD, SuperSport Football Plus ROA, SuperSport MaXimo 1, beIN SPORTS CONNECT, beIN 4K Arabia, DStv Now |
| Mauritius | SuperSport MaXimo 1, DStv Now, SuperSport Football Plus ROA, RMC Sport 1 |
| Mayotte | SuperSport MaXimo 1, SuperSport Football Plus ROA |
| Mexico | HBO Max |
| Monaco | RMC Sport 1 |
| Montserrat | Flow Sports App, Flowsports.co |
| Morocco | beIN Sports English, beIN SPORTS CONNECT, TOD, beIN 4K Arabia |
| Mozambique | SuperSport Football Plus ROA, SuperSport MaXimo 1, DStv Now |
| Namibia | SuperSport Football Plus ROA, DStv Now, SuperSport MaXimo 1 |
| Nepal | Sony LIV |
| Netherlands | Ziggo Sport 14, Ziggo Sport Select |
| New Zealand | Spark Sport |
| Nicaragua | Star+, ESPN Norte |
| Niger | DStv Now, SuperSport Football Plus ROA, SuperSport MaXimo 1 |
| Nigeria | DStv Now, SuperSport MaXimo 1, SuperSport Football Plus Nigeria |
| Norway | TV 2 Play, TV2 Sport Premium |
| Oman | beIN Sports English, TOD, beIN SPORTS CONNECT, beIN 4K Arabia |
| Pakistan | Sony LIV |
| Palestine | beIN Sports English, TOD, beIN 4K Arabia, beIN SPORTS CONNECT |
| Panama | Flow Sports App, Flowsports.co, ESPN Norte, Star+ |
| Paraguay | Star+, ESPN2 |
| Peru | ESPN2, Star+ |
| Poland | sport.tvp.pl, Polsat Box Go, Polsat Sport Premium 2, TVP Sport App, TVP1 |
| Portugal | Eleven Sports 2 Portugal |
| Qatar | TOD, beIN SPORTS CONNECT, beIN Sports English, beIN 4K Arabia |
| Reunion | SuperSport MaXimo 1, SuperSport Football Plus ROA |
| Romania | Digi Online, Prima Sport 1, Prima Play, Digi Sport 1 Romania |
| Russia | matchtv.ru |
| Rwanda | SuperSport MaXimo 1, SuperSport Football Plus ROA |
| Saint Helena | SuperSport Football Plus ROA, SuperSport MaXimo 1 |
| Saint Kitts and Nevis | Flow Sports App, Flowsports.co |
| Saint Lucia | Flowsports.co, Flow Sports App |
| Saint Vincent and the Grenadines | Flow Sports App, Flowsports.co |
| Sao Tome And Principe | SuperSport MaXimo 1, SuperSport Football Plus ROA |
| Saudi Arabia | TOD, beIN SPORTS CONNECT, beIN 4K Arabia |
| Senegal | SuperSport MaXimo 1, SuperSport Football Plus ROA, DStv Now |
| Seychelles | SuperSport Football Plus ROA, DStv Now, Flow Sports App, Flowsports.co, SuperSport MaXimo 1 |
| Sierra Leone | SuperSport MaXimo 1, SuperSport Football Plus ROA, DStv Now |
| Singapore | beIN Sports Connect Singapore |
| Slovakia | Nova Sport 3 |
| Somalia | SuperSport MaXimo 1, TOD, beIN Sports English, SuperSport Football Plus ROA, beIN 4K Arabia, beIN SPORTS CONNECT |
| South Africa | SuperSport Premier League, DStv App, SuperSport MaXimo 1 |
| South Sudan | DStv Now, beIN Sports English, beIN 4K Arabia, TOD, beIN SPORTS CONNECT |
| Spain | Movistar+, Movistar Liga de Campeones |
| Sri Lanka | Sony LIV |
| Sudan | SuperSport Football Plus ROA, SuperSport MaXimo 1, DStv Now, beIN Sports English, beIN 4K Arabia, TOD, beIN SPORTS CONNECT |
| Swaziland | SuperSport MaXimo 1, DStv Now, SuperSport Football Plus ROA |
| Sweden | C More Sweden |
| Switzerland | Blue Sport 4, Blue Sport, Blue Sport 2, RMC Sport 1, Canal+ France |
| Syria | beIN 4K Arabia, beIN Sports English, TOD, beIN SPORTS CONNECT |
| Tanzania | SuperSport Football Plus ROA, SuperSport MaXimo 1, DStv Now |
| Thailand | AIS PLAY, beIN Sports Connect, beIN Sports 1 Thailand |
| Togo | SuperSport Football Plus ROA, SuperSport MaXimo 1, DStv Now |
| Trinidad and Tobago | Flowsports.co, Flow Sports App |
| Tunisia | beIN SPORTS CONNECT, TOD, beIN 4K Arabia, beIN Sports English |
| Turkey | Exxen |
| Turks and Caicos Islands | Flowsports.co, Flow Sports App |
| Uganda | SuperSport Football Plus ROA, DStv Now, SuperSport MaXimo 1 |
| United Arab Emirates | beIN 4K Arabia, beIN SPORTS CONNECT, beIN Sports English, TOD |
| United Kingdom | BT Sport App, TalkSport Radio UK, BT Sport 1, BT Sport Ultimate, BBC Radio 5 Live, BTSport.com |
| United States | UniMás, Paramount+, TUDN App, VIX+, CBS, TUDN USA, Univision NOW, TUDN.com |
| Uruguay | ESPN2, Star+ |
| Venezuela | ESPN2, Star+ |
| Vietnam | FPT Play |
| Yemen | beIN Sports English, TOD, beIN 4K Arabia, beIN SPORTS CONNECT |
| Zambia | DStv Now, SuperSport MaXimo 1, SuperSport Football Plus ROA |
| Zimbabwe | DStv Now, SuperSport MaXimo 1, SuperSport Football Plus ROA |