Writer's Choice
Match Highlights: Alvarez Grabs a Brace, Haaland a Hat-trick, Guardiola is Impressed & Cancelo Scores his First Goal vs Nottingham Forest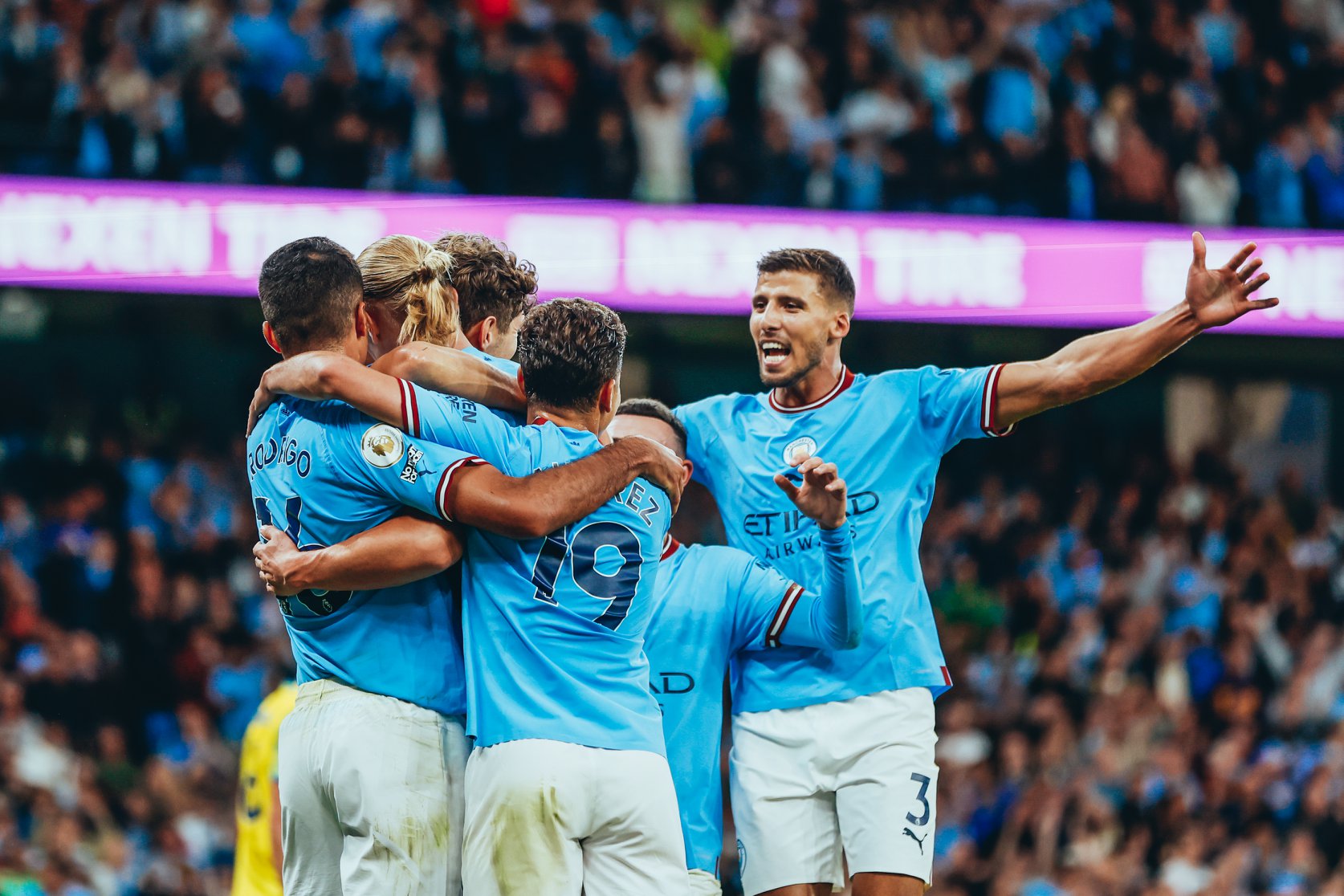 Manchester City continue their unbeaten run in the premier league with a massive victory vs Nottingham Forest, a game which ended 6-0 in favour of City at the Etihad Stadium.
Hungry to score goals has always been one of Man City's traits and it was visible enough in this match as they thrashed 'The Tricky Trees' 6 goals to nil. Goals were scored by Erling Haaland who bagged a hat-trick, Joao Cancelo who scored his first Premier League goal this season and Julian Alvarez grabbed a brace inclusive of his first Premier League goal for City.
Speaking in a post-match interview, Pep Guardiola expressed how much he is impressed with City's overall team performance and particularly summer signings – Alvarez and Haaland.
"(The performance was) Really good, the goals and talents with our strikers", Pep said.
"Erling – I know he is happy scoring goals – he is a special talent and he is hungry for goals. I think the crowd went home happy, we did a really good performance".
"What he has done in Norway, Austria, Germany he has started to do here. He is talented, we knew it and today we saw Julian as well. We have two incredible strikers with an incredible sense to score goals".
"I think what Erling wants is to win the titles. This is my feeling of what he wants. If the records and goals help that then good. Records and goals don't win titles, I think he wants to be part of that. As much as we play better, it gives him chances to score goals".
"How good Stones, Kyle, Rodri, Bernardo and everyone helps to score goals. They help the talented players up front to show their quality".
Pep Guardiola further shared his happiness for Julian Alvarez whose work ethic is finally paying off.
"I had the feeling that there is not one person in the locker room who is not happy for the two goals. Erling is highlighted, Erling deserves everything" the manager said.
"But from day one we have seen Julian in the locker room and training. We have an incredible opinion. Our scout in South America told me for a year and a half – this guy is special".
"He has scored a lot of goals in a team like River Plate that have an incredible pressure to win. In games where teams defend deep, to have the two guys there with an incredible smell to score goals is so important. Julian deserves everything. The work ethic always pays off".
WATCH THE EXTENDED HIGHLIGHTS FOR MAN CITY VS NOTTINGHAM FOREST BELOW