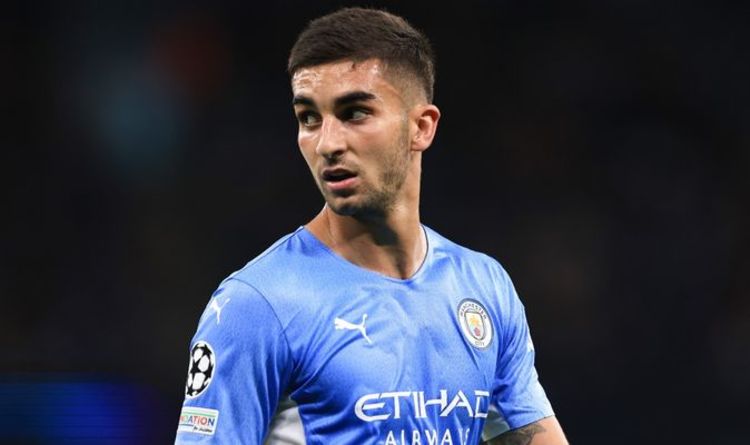 Manchester City manager, Pep Guardiola says Ferran Torres' move to Barcelona is about to be completed. The City boss is just waiting for confirmation from Director of Football Txiki Begiristain that negotiations have been finalized. Ferran Torres has been out since October due to a metatarsal injury suffered on international duty.
Since joining Man City, the 21 year old Spaniard has been in excellent form both at club and International level. He has scored 15 goals in 39 appearances for the Cityzens in all competitions and 12 goals in 22 appearances for Spain national team. Having played partly as a striker by Pep due to lack of natural strikers at the club, his departure would question the managers' stance on his replacement. However, Guardiola has ruled out signing a striker in January should the Spaniard depart.
"We are not going to bring in a striker", he said at his press conference ahead of City's game against Leicester.
"I hear it was very close but I have not heard from my club that it is already done, nothing official. They are negotiating. When the club confirm, it's done, but Txiki didn't say to me it's done".
Being a legendary figure at Barcelona, Guardiola acknowledged players find it difficult to turn down both the Catalan giants and their great rivals, Real Madrid. He further admitted he did not try to convince Torres to stay when the 21-year-old informed him of his desire to leave the Club. He wants his players to be happy and says, providing a deal which suits all parties can be struck, the Club will not stand in the way of anyone who wants to leave.
"I always have the feeling when FC Barcelona and Real Madrid knock on the door it's hard to say no", he added.
"In terms of fashion and cities and many reasons. When he knocked on my door and said he wants to leave, I said leave. I want happiness in my players. If you are not happy, you have to leave. We are not a club where presidents and CEOs say 'no you have to stay'. The players and clubs have to agree, this is business, but if the player wants to leave, they go. It's not just Ferran, it's everyone. If you want to leave because you will be happier in another place, you have to go. The career for a football player is short. If he wants to leave, and the clubs have an agreement, I am happy for him".
Ferran Torres's transfer to FC Barcelona is worth €55 million (plus conditional add-ons worth €10 million) in approximation.