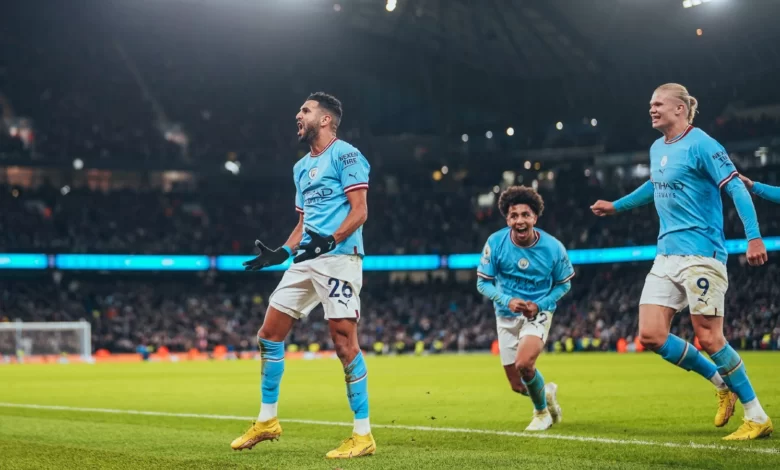 In a dramatic match that saw Manchester City secure a comeback victory against Tottenham at the Etihad Stadium, one player who stood out as the player of the match was Riyad Mahrez.
The Algerian winger played a crucial role in the team's performance on the night, scoring two goals, assisting another and was a constant threat throughout the match.
After the match, Mahrez shared his thoughts on the game, reflecting on the team's mindset at halftime when they were trailing by two goals. "You think about everything when you are down at half-time. I think we played good in the first half. All we had against us was the two goals we conceded."
Mahrez's ability to remain focused and determined in the face of adversity was key to City's comeback. He also spoke about the team's experience in coming back from behind in the past, "When we came back, we were frustrated. We have done it before. We have come back from two goals behind in the past."
Manchester City's ability to draw on past experiences and lessons helped them to stay calm and focused in the second half.
Mahrez's goal and assist was vital in the team's comeback, he said "We showed what and who we are and had a bit of luck too. We deserved the win." His performance on the night was a testament to his quality as a player and his ability to make an impact in crucial moments.
He was a constant threat throughout the match and was deservedly named as the player of the match. The win trims Arsenal's lead down to five points, though the Gunners have one game in hand. City will host Wolves on Sunday with a 2pm kick-off (UK).
Riyad Mahrez's performance was a shining example of the team's resilience and determination, and it was clear that his contributions played a significant role in securing the team's victory against a tough opponent. He has established himself as an important player for Manchester City and his performances will be crucial in the team's quest for success this season. With his ability to score, assist and make an impact throughout the match, Mahrez is sure to be a key player in the team's future matches.