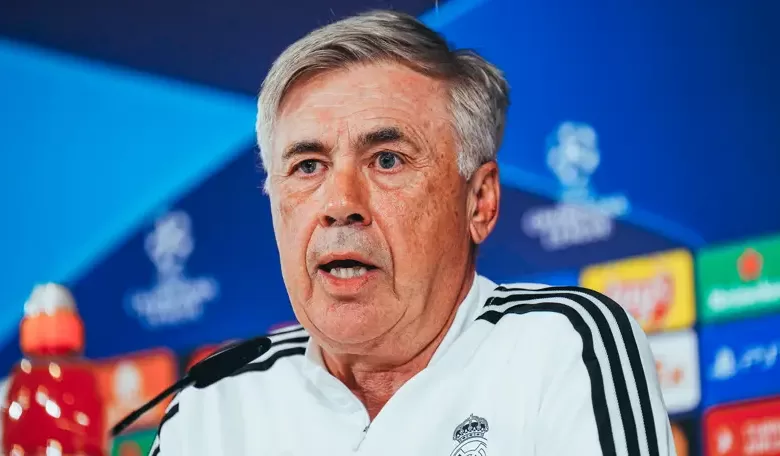 Carlo Ancelotti, the esteemed manager of Real Madrid, has expressed his admiration for Manchester City's remarkable performance this season, deeming them "unstoppable" at times.
As fate would have it, these two formidable teams are set to clash once again in the Champions League semi-final, just like last season.
The highly anticipated first leg will take place at the iconic Santiago Bernabeu on Tuesday, followed by the concluding match at the illustrious Etihad Stadium the following Wednesday.
Ancelotti, while confirming the return of his influential midfielder Luka Modric from injury, spoke candidly about the threats posed by City. Notably, the Italian maestro believes that the addition of Erling Haaland, the current leading scorer in the Champions League, has elevated their game to unprecedented heights.
In Ancelotti's own words, "Haaland is an exceedingly dangerous player. He is not only a prolific goal scorer but also a constant menace to any defense. Manchester City is an incredibly well-rounded team that excels both in defense and attack."
He further commended City's tactical prowess, remarking, "They possess a crystal-clear vision of how they want to play football. It's not solely about containing Haaland; it's about thwarting a team that has, at times, displayed an indomitable force. However, we will seize our opportunities, as this promises to be an enthralling battle."
Ancelotti acknowledged City's formidable nature last season but emphasized that Haaland's inclusion adds a fresh dimension to their gameplay. "They now have the option to play more direct if necessary. With Kevin De Bruyne providing support behind Haaland, they possess the ability to seamlessly control the flow of the game."
Undoubtedly, the outcome of this intense clash will be decided during the second leg. Ancelotti expressed his team's determination to secure a favorable result in Madrid and carry the momentum to Manchester for the return fixture.
Meanwhile, Real Madrid midfielder Toni Kroos shared his thoughts on City's strengths and the tactical brilliance of his former coach, Pep Guardiola. Reflecting on City's performances, Kroos acknowledged their impressive goal-scoring prowess and defensive solidity, asserting that solid defensive strategy is imperative when facing a team capable of netting three or four goals in a single match.
Kroos also paid homage to Guardiola's distinctive style, regardless of the teams he manages. He stated, "Pep's teams have a distinct identity and a clear vision of how they want to play the game. Their emphasis lies in dominating possession and constantly striving for improvement. Acquiring players like Haaland, who boasts an impressive tally of 51 goals this season, has undoubtedly strengthened their ranks. However, we are well aware that we will face an arduous challenge against a resolute Manchester City team. Only time will tell."
Addressing the previous season's heart-wrenching defeat, Kroos expressed his belief that it would have minimal impact on City's motivation this time around. He remarked, "I cannot determine whether their motivation surpasses ours. It is evident that their ultimate objective is to claim the prestigious Champions League title. Despite narrowly missing out in previous encounters, their determination remains unwavering. Nevertheless, we, too, are driven and ready to face a formidable Manchester City side, guided by the tactical genius of Pep Guardiola. It will be no easy task."
With Carlo Ancelotti and Toni Kroos offering insightful perspectives on the impending clash between Real Madrid and Manchester City, fans eagerly await the spectacle that is set to unfold on the grand stage of the Champions League. The battle for European glory is poised to captivate football enthusiasts worldwide, as these two powerhouses vie for a place in the prestigious final.
Watch the full pre-match press conference via the video below.