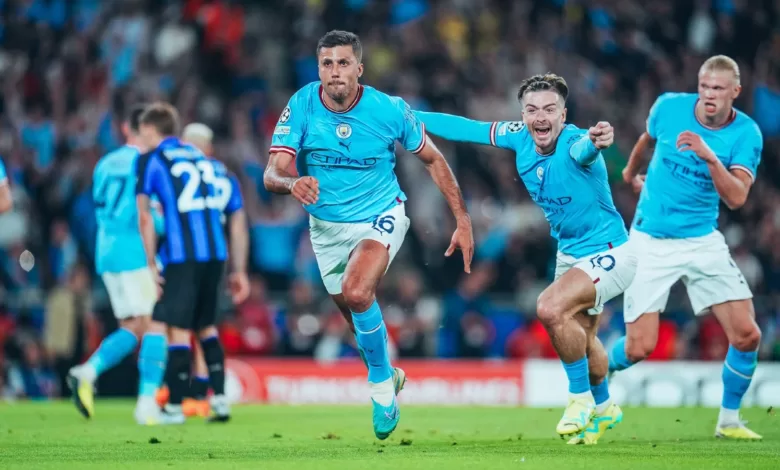 In a momentous victory, Manchester City etched their name into the annals of football history by clinching their first-ever Champions League title and completing the illustrious Treble.
The resplendent Olympic Ataturk Stadium in Istanbul bore witness to this remarkable achievement as Rodrigo's sensational 69th-minute strike secured a hard-fought 1-0 triumph over Italy's Inter.
This crowning glory not only solidified Pep Guardiola's status as a visionary manager but also made him the first in football history to achieve the Treble twice. Guardiola had previously accomplished this remarkable feat with Barcelona in 2009. Manchester City's journey to this historic moment commenced last July, and after a grueling season, they merged the signature attacking style that defined Guardiola's seven-year reign with unwavering determination and tenacity.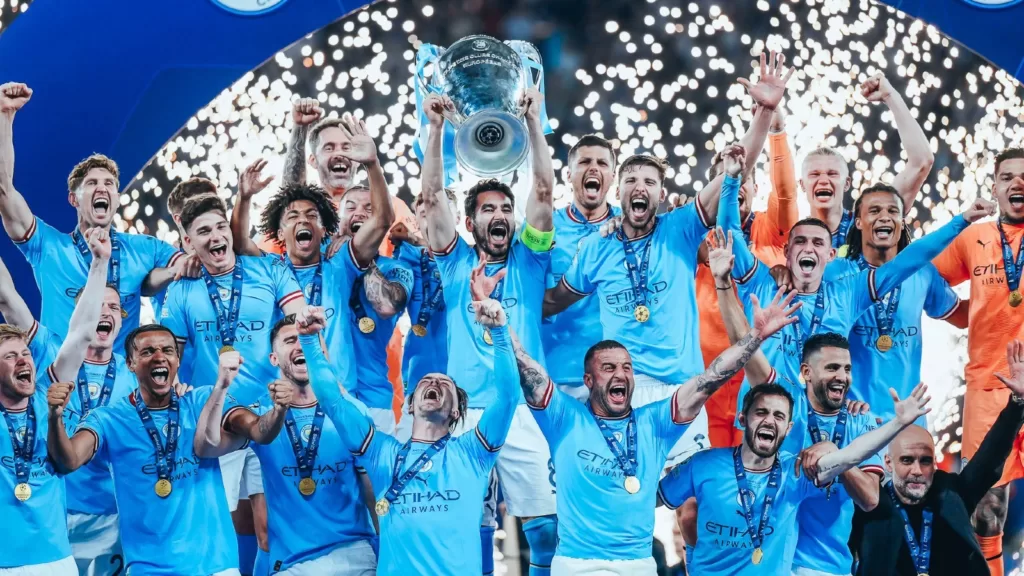 The significance of this victory was not lost on Pep, as it marked his 14th major title during his incredible tenure at Manchester City. Those fortunate enough to be present in Istanbul, along with the countless City fans around the world, were treated to an unforgettable experience that will be etched in their memories forever.
The atmosphere at the Olympic Ataturk Stadium was nothing short of awe-inspiring, with fans from all corners of the globe rallying behind their teams. Manchester City swiftly asserted their dominance, with Erling Haaland and Bernardo Silva launching powerful strikes on goal within the opening 10 minutes. However, Inter demonstrated their mettle, skillfully blending finesse with physicality to disrupt City's rhythm. Edin Dzeko, a former favorite at the Etihad, proved to be a constant threat.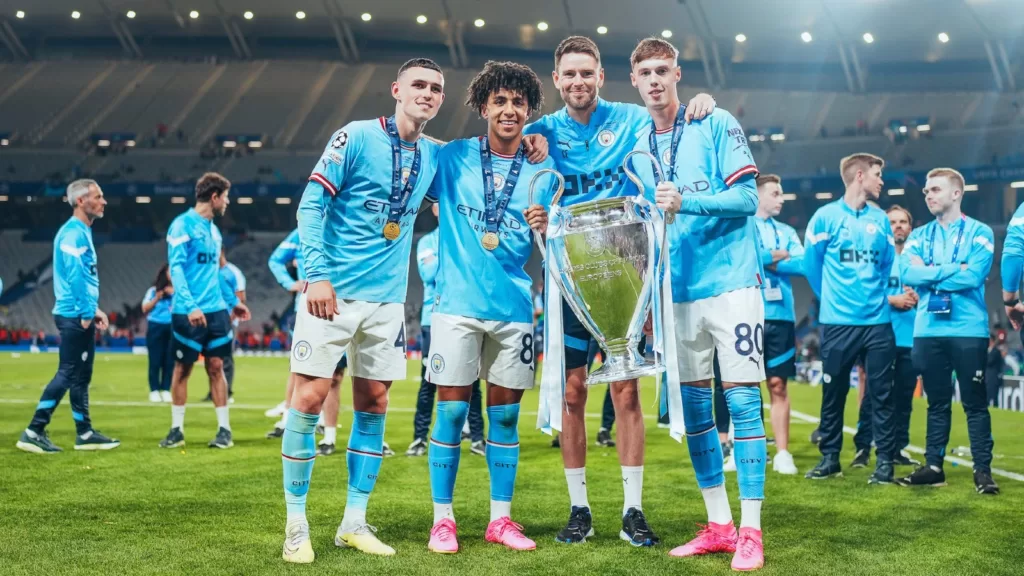 A heart-stopping moment arrived when Ederson's attempted clearance inadvertently reached Barella, whose subsequent shot luckily misfired. Manchester City created their best chance of the game when Haaland found a sliver of space on the left side of the box, only to be denied by a brilliant save from Onana, Inter's goalkeeper. The fickleness of football reared its head in the 37th minute when De Bruyne was forced off the pitch due to injury, replicating his unfortunate fate in the 2021 Champions League final. Phil Foden was summoned as his replacement.
The stop-and-start nature of the game persisted after halftime, as Inter's overtly physical approach frustrated Manchester City. In the 57th minute, a defensive mix-up between Akanji and Ederson granted Lautaro Martinez space inside the box, but Ederson exhibited brilliance by rushing out and smothering the Argentine's shot. However, City began building momentum, and the decisive moment of quality arrived in the 69th minute.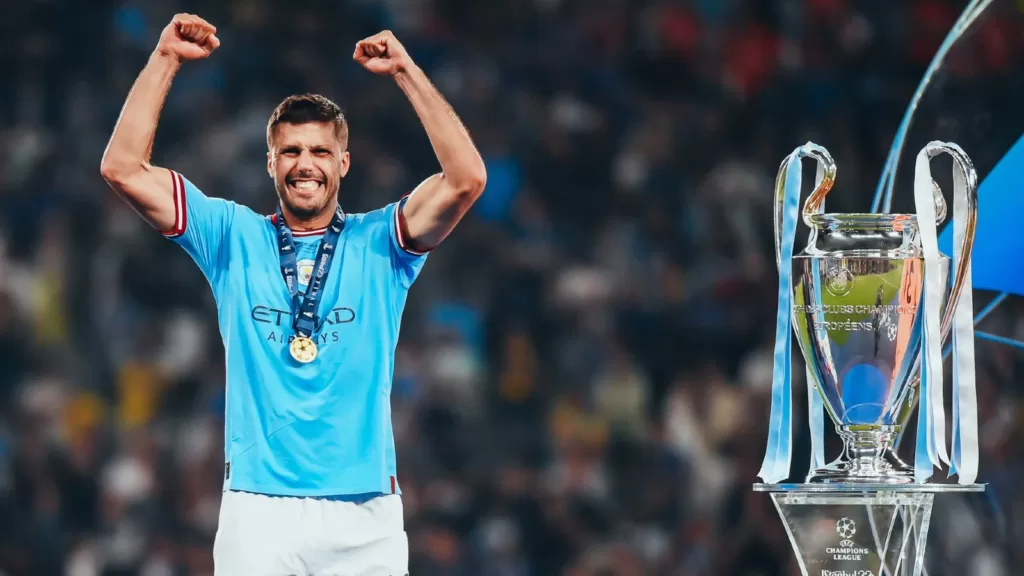 Bernardo was the catalyst, surging into the Inter box after receiving a splendid pass from Akanji. As the opposition defense cleared Bernardo's cross, the ball fell perfectly for Rodri on the edge of the box, who unleashed a powerful low shot from 18 yards, triggering pandemonium among the City faithful. Yet, there was another heart-stopping moment when Dimarco's header struck the crossbar, followed by substitute Lukaku blocking the defender's goal-bound follow-up. Phil Foden had an opportunity to double City's advantage, but his 12-yard shot was blocked by Onana, heightening the tension.
As time ticked away, Ederson produced an incredible save to deny Lukaku's close-range header when a goal seemed inevitable. Exhausted and nerve-wracked, Manchester City prevailed after an arduous night that encompassed every range of emotion. Ederson's stunning last-minute save secured the crown, leaving everyone in awe. Adding to the significance of the occasion, HH Sheikh Mansour, present in Turkey, witnessed the greatest night in the club's history, attending his first game in person since 2010.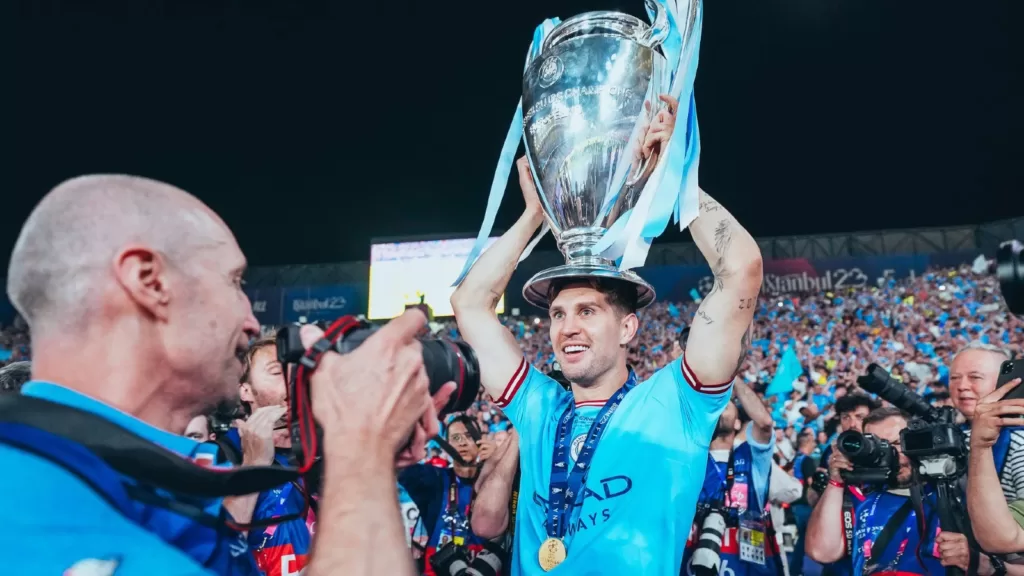 This triumph not only anointed Manchester City as champions of Europe and Treble winners but also secured their place among the elite clubs who have achieved domestic league and cup victories alongside the Champions League. Rather than signaling the culmination of a journey, this moment feels like the dawn of sustained success in Europe, fueled by the hunger and ambition within Pep Guardiola's squad. Having savored the sweet taste of Champions League glory, Manchester City's appetite for more will only grow stronger.
The hallmark of Pep's City has been an unquenchable desire for improvement and development. With their qualification for next season's UEFA Super Cup final in Piraeus, Greece, against Sevilla in August and the 2023 Club World Cup in Saudi Arabia this December, the journey continues. There is much to relish now and even more to anticipate in the coming season.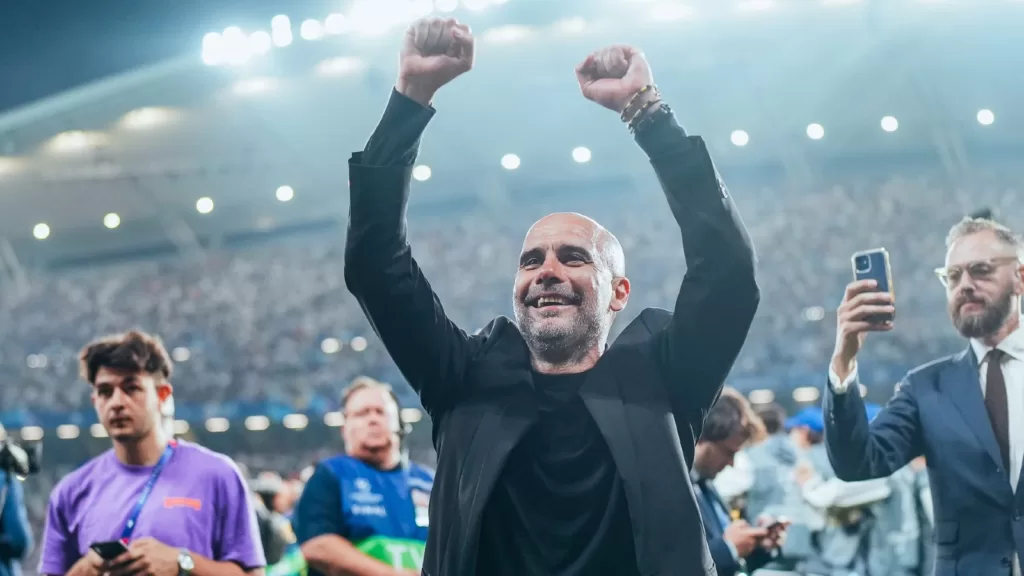 In the context of Pep Guardiola's managerial career, the Champions League victory and the Treble marked his 300th career win at Manchester City. While there have been more dominant displays in the past, none could rival the sweetness of this triumph.
The Man of the Match accolade presented a difficult choice, with several outstanding performers. However, Ruben Dias stood out, exhibiting a lion-hearted performance at the back, putting his heart, soul, and body on the line. John Stones and match-winner Rodrigo also delivered stellar performances, but Dias, a towering figure throughout the second half of the season, proved himself to be an exceptional player.
Now, it is time for rest and rejuvenation. After an exhaustive 62-game campaign that began with the Community Shield clash against Liverpool in July, Manchester City can finally relax, refresh, and reflect on their most successful and unforgettable season in the club's proud 129-year history. Before that, the players will bask in their success during the journey home to Manchester on Sunday, followed by a city center parade on Monday to celebrate with their fans.