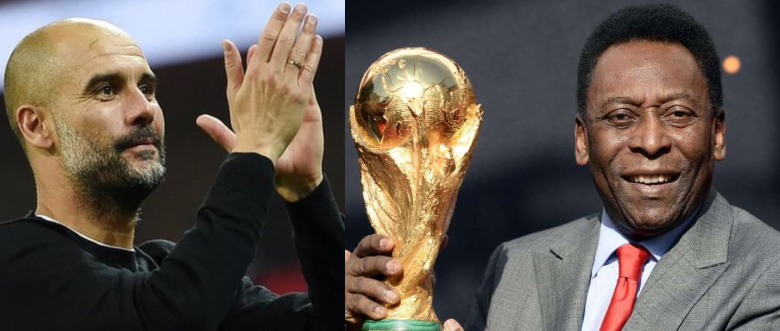 Manchester City manager – Pep Guardiola has paid tribute to Brazil football legend Edson Arantes do Nascimento popularly known by his nickname Pelé, who passed away on Thursday, aged 82, after battling cancer.
Pelé scored a world record of 1,281 goals in 1,363 appearances during a 21-year career, including 77 goals in 92 matches for his country. The only player to win the World Cup three times, lifting the trophy in 1958, 1962 and 1970, Pelé was named FIFA's Player of the Century in 2000. 
Pep Guardiola has paid his tribute or respect to the Brazilian legend and has expressed his heartfelt condolences, speaking in a pre-match conference.
He said: "I send on behalf of Manchester City, the biggest condolences to his family and friends.
Football is football thanks to these types of people, players and human beings. I think Neymar said it, before the No. 10 was just a number and after it became something special – every top player wants to wear it for their team.
What he has done for football is there and always will remain. He didn't just win three World Cups – it was a new thing when he came up. I was not born when he was playing but it's like a good movie, no?
The legacy after many years is still there. We are still talking all these years later. Pele, Maradona, Cruyff, Messi, Beckenbauer, Cristiano Ronaldo – these players will be forever, will be eternal.
They have done many things for many years, and these types of players make our business, our work, our job a better place. What he produced; we have seen with the World Cup one team can change everything for a country of millions of people.
There is not another show or event that can create this type of emotion. These exceptional players produce this emotion for lots of people.
When I was in the academy at Barcelona I had a physio who was in love with Brazil and Pele. And after when I was nine or ten, I started to watch some clips.
Now I realise he was so strong and could do everything. These type of players, if he was playing now, he would adapt to the rhythm and the pace. He was so intuitive and in skills and mentality, he could play in every generation. Everyone has their own greatest.
For Argentina they might say Di Stefano, Maradona or Messi. I always say Messi is my favourite because I worked with him – but I understand people choose another one.
What is for sure is all of them make an incredible contribution to our football and make emotions for people. That is the nicest thing a player can do – and they did it quite regularly, almost every game. That is so nice."
Watch the video below to hear Pep's tribute to Pelé, may his soul rest in peace.