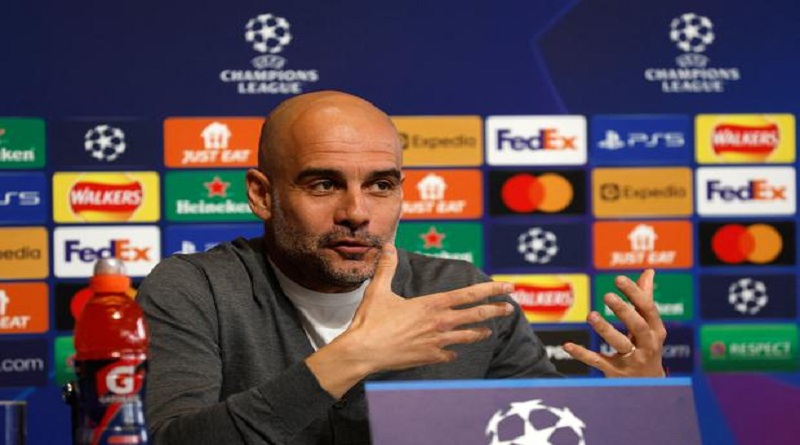 Manchester City are set to face the newly-crowned Spanish champions – Real Madrid in the UEFA Champions League semi-finals, second leg. The first leg ended four (4) – (3) three at the Etihad stadium in favour of the hosts.
To provide updates prior to the game, Manchester City boss – Pep Guardiola addressed the media at Tuesday's pre-match press conference, where he revealed that Kyle Walker would continue to be carefully monitored between now and Wednesday before he makes a final decision on his availability.
"Kyle trained today and he will travel", Guardiola confirmed.
"Tomorrow we will decide – he is three weeks without training but we are happy he is back. We will decide tomorrow. Yeah definitely (we have better options at right-back with Joao Cancelo also available after suspension). Joao is no doubt. He is really good. We will see with Kyle tomorrow how he is after treatment tonight and tomorrow. Then we will decide".
However, the boss did confirm that John Stones would not figure on Wednesday night. The England centre half was forced to come off during last week's dramatic 4-3 first leg win over Real Madrid with a recurrence of a muscular issue. And asked if Stones was fit to play, the boss responded: "No. He is not fit".
Manchester City are on the hunt for their first UEFA Champions League title but it will not come by easily as the Spanish Giants are seeking to claim what would be a 14th European crown. However, Pep is looking ahead to what promises to be another compelling evening following last week's seven goal thriller, he said he was anticipating a similarly engrossing match.
"We are two good teams. We saw it a week ago when we played. They are champions of Spain. We are trying to be champions", the City boss added.
"Both teams are good. I said a week ago we want to win and try and be in another final, for the second year in a row. (But there is) no guarantee the same guys will play the same way,. I don't know what will happen tomorrow. We will try and win the game with the best XI possible".