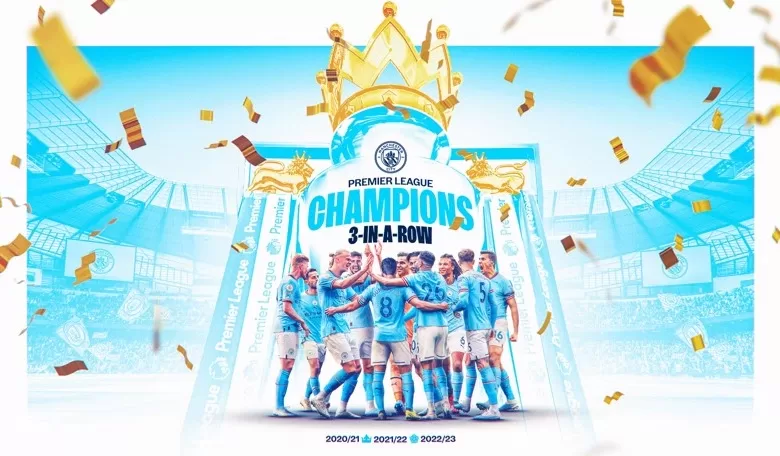 In a stunning display of dominance, Manchester City has secured their third successive Premier League trophy.
The title was sealed as a result of Arsenal's 1-0 defeat against Nottingham Forest, leaving City with an insurmountable lead and three matches remaining.
This remarkable victory marks the fifth time in six seasons that Manchester City has claimed the Premier League trophy. It also signifies the 12th major honor achieved under the leadership of the exceptional Pep Guardiola. However, the triumph doesn't stop here, as City now stands on the verge of a 13th title when they clash with Manchester United in the highly anticipated FA Cup final at Wembley on June 3.
Following this momentous encounter, Manchester City will face Inter in the UEFA Champions League final on June 10. This marks the second appearance in the prestigious European knockout competition's final in just three seasons. Throughout the ongoing campaign, City has displayed their prowess, notching up an impressive record of 27 wins and 92 goals scored in 35 matches, accumulating a total of 85 points.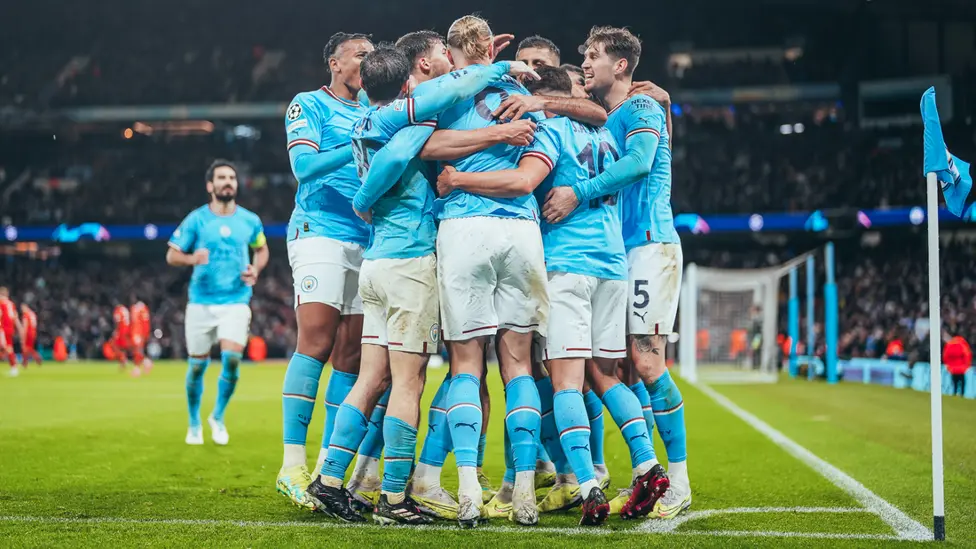 The achievement of claiming three consecutive top-flight titles places Manchester City in an illustrious group of only five clubs in English football history. This exclusive list includes Huddersfield Town (1924-1926), Arsenal (1933-1935), Liverpool (1982-1984), and Manchester United (1999-2001 & 2007-2009).
Looking ahead, Manchester City now sets its sights on an unprecedented feat in the upcoming 2023/24 season. They aim to etch their name in history as the first team ever to secure four successive top-flight titles in English football.
This triumph is even more extraordinary when considering the 119-year gap between Manchester City's first major trophy win, the 1904 FA Cup, and their most recent success. This span represents the second-longest interval between victories in English football, second only to Liverpool's 121-year wait from 1901 to 2022.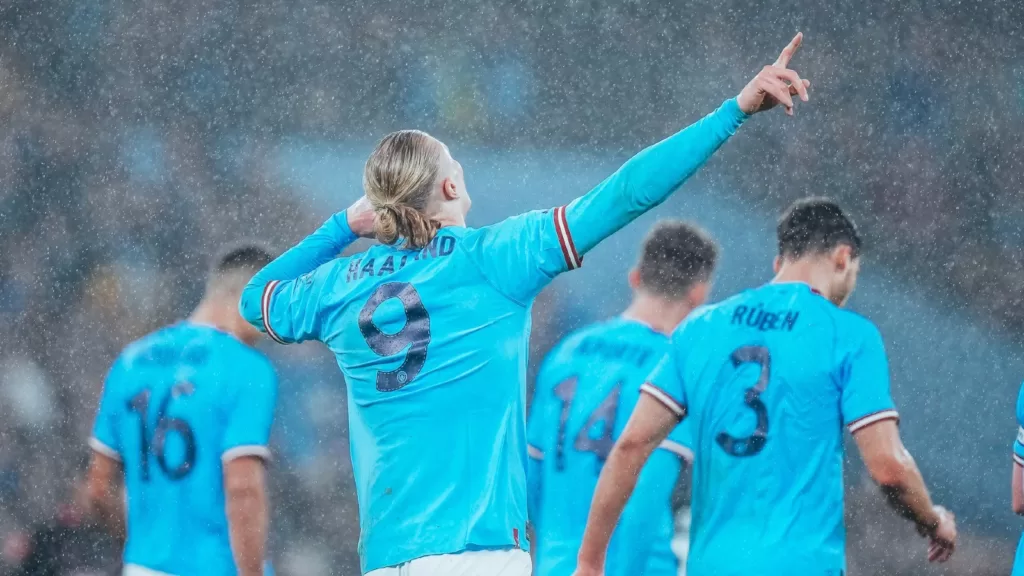 While the collective quality of the entire Manchester City squad has been the driving force behind their season, there have been noteworthy individual milestones along the way. Erling Haaland's sensational performance has seen him surpass the record for the most goals scored in a single Premier League season. With an astounding 36 goals, he eclipsed the previous record of 34. Notably, he achieved this milestone during the victory over West Ham United at the Etihad in May. Haaland also secured another record by becoming the quickest player to reach 20 Premier League goals, accomplishing the feat in just 14 appearances.
Another standout player, Kevin De Bruyne, set a new benchmark by becoming the fastest player to achieve 100 Premier League assists. He reached this impressive milestone in a mere 237 games, surpassing the previous record set by Cesc Fabregas, who achieved it in 293 games.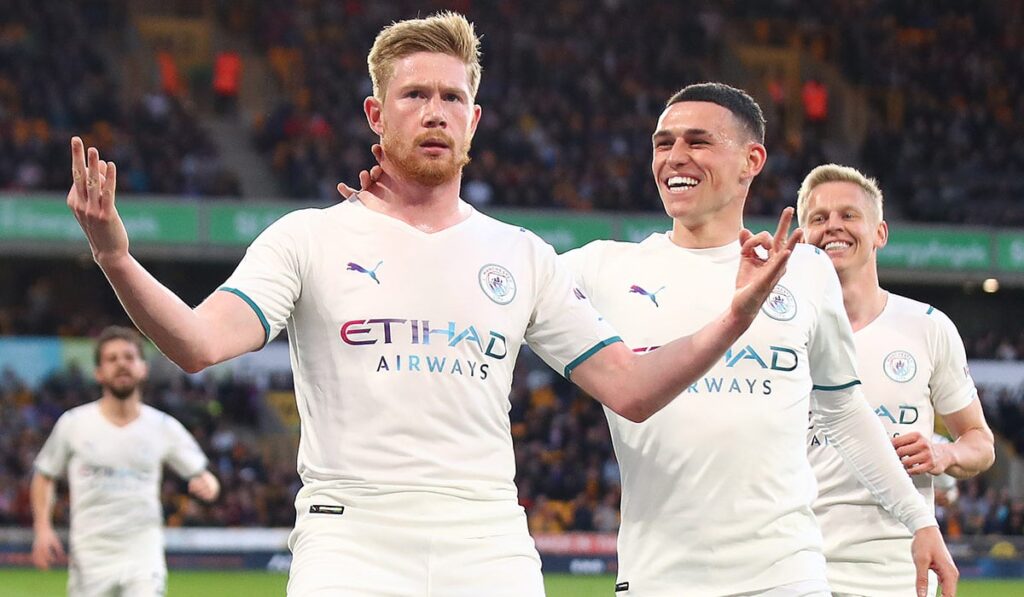 Manchester City's squad has shown immense resilience throughout this unique campaign, competing in 60 fixtures across four different club competitions. Additionally, 16 players represented their respective countries in the FIFA World Cup last winter, showcasing their remarkable dedication and talent.
The first-team triumph also marks a hat-trick of accomplishments for Manchester City, as their Academy sides were previously crowned Premier League 2 and Under-18s Premier League champions. Manchester City has now achieved this remarkable feat for three consecutive seasons, further solidifying their status as a football powerhouse.
The entire City News Centre team extends their heartfelt congratulations to Pep Guardiola, his exceptional coaching staff, and all the players for yet another remarkable achievement in the history of the football club.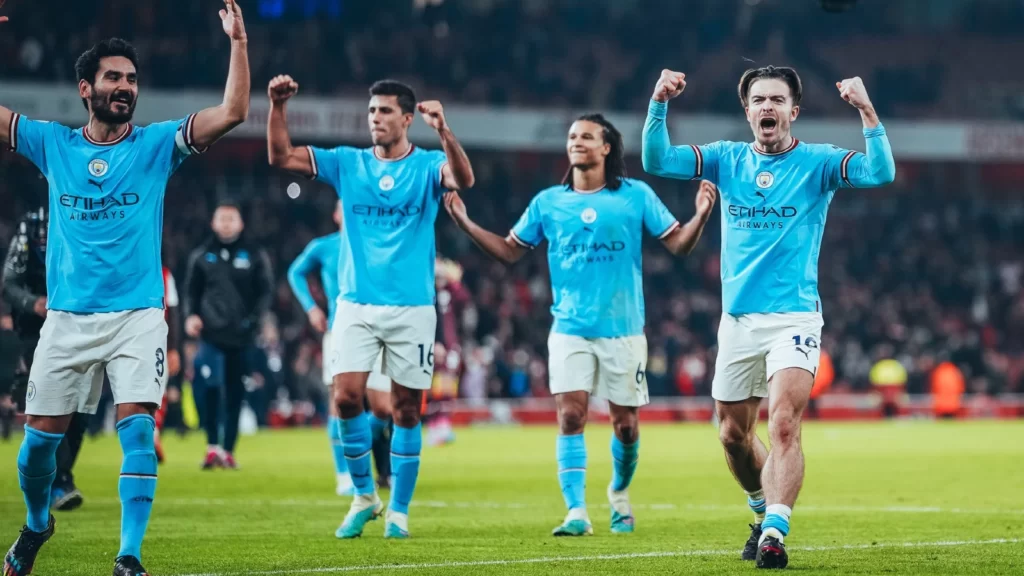 The true inside story of how Man City became Premier League Champions for a third time in a row and for the fifth time in six seasons. Go inside the dressing room to see team talks from Pep Guardiola, Ruben Dias, Ilkay Gundogan and Rodri.
Watch as the team came from behind to beat Arsenal to the title via the video below.