Man City
Writer's Choice
City's Rodrigo declares every game a 'Final' as they face Tottenham with eye on Premier League glory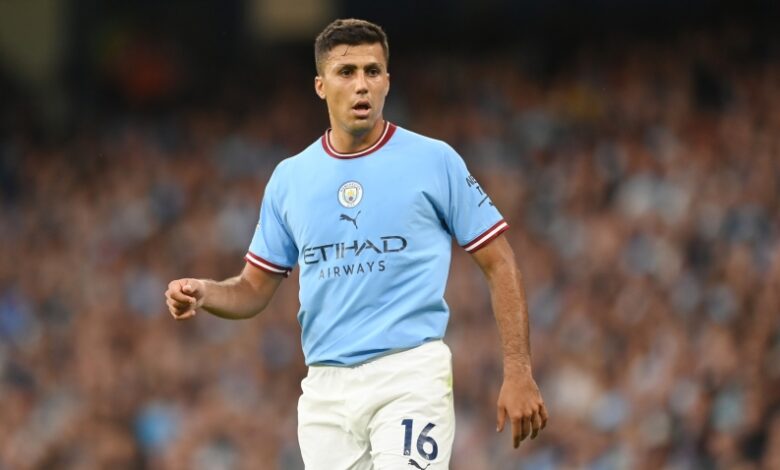 Manchester City's Rodrigo declares every game a "final" as they face Tottenham in the Premier League, with Erling Haaland and Harry Kane headlining the striker showdown. The Spaniard sees the pressure as a test of mentality for the team.
City's quest for Premier League glory heats up as they face Tottenham on Sunday, determined to close the gap between themselves and leaders Arsenal, who suffered a shocking defeat at the hands of Everton on Saturday. With a victory against Tottenham, City could reduce the gap to just two points, putting the pressure on Arsenal.
Midfield maestro, Rodrigo, has declared that every game from now until the end of the season will be a "final" for City. He is confident that the club's experience in chasing down leads in the league and the fact that there is still a long way to go with 18 games remaining, gives them an advantage.
Rodrigo believes that playing under pressure brings out the best in City, intensifying their focus and fueling their determination. He sees this pressure as a matter of mentality, one that separates champions from the rest.
"At the end, we have the experience, and we know that this is very normal," said Rodrigo.
"We know that there are still 18 games remaining and still a lot of points to play for. We know the level of the league and that every game is a final.
Maybe in another situation where the league is not that good, I would say 'OK', but the league is just there, and every game is a final
We just keep calm, try to go on our road and don't look too much at our opponents. We will just focus on ourselves," he added.
The stage is set for a mouth-watering showdown between two of Europe's best strikers, Erling Haaland and Harry Kane. Rodrigo sees Haaland as a weapon for City, capable of striking fear into the hearts of their opponents. He believes that Haaland's goalscoring ability is unmatched and that he has the potential to score more than one goal in every game.
On the other hand, Rodrigo is full of praise for Harry Kane, labeling him one of the greatest strikers in the Premier League and a top player who has been at the highest level for a decade. He admires Kane's all-around game, including his ability to not only score goals but also improve the game for the team and his clever movements on the field. Get ready for a thrilling encounter as City aim to surge forward in their pursuit of the Premier League title.
He said: "When you play with pressure in this sense, you play with more desire because you know that you cannot drop or fail. Maybe you play with more responsibility, but it is a matter of mentality. It is all about mentality.
Trying to be consistent every three days, knowing you are going to be tired and there are going to be moments where you have to run, deal with the pressure, and suffer sometimes. This is the mentality of champions."
"In Erling, we feel like we have a weapon [we can use] to fear the opponents," the Spaniard added.
"Of course, we have switched different things to the way we used to play before – before we didn't have this weapon and now we have it. [Having him] is always a guarantee of scoring goals and I think he can score more than one goal immediately in every game.
I think Kane and Erling are the two greatest strikers in the Premier League right now. Kane is a top player, a great player. He has been at the highest level for 10 years in my opinion. I just enjoy watching him because he understands the game in the same way.
Not only scoring goals, but trying to improve the game for the team, dropping deep in situations. He is a very clever player."