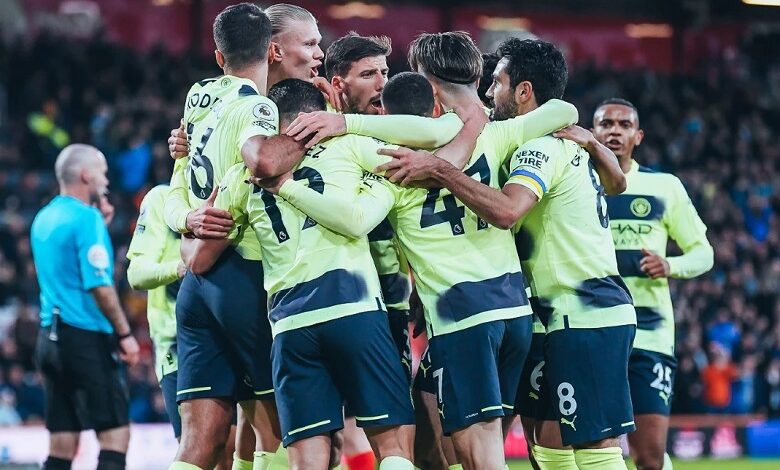 Manchester City clinched a 4-1 victory against Bournemouth in their recent game, which proved to be a day of milestones.
Julian Alvarez opened the scoring in the 15th minute and Erling Haaland doubled City's lead on 29 minutes, becoming the player with the most goals scored in a single Premier League season for the club. Ilkay Gundogan and Phil Foden teamed up to assist Haaland, taking his tally to 27 Premier League goals.
Foden scored City's third goal, while Alvarez fired off the fourth. Jefferson Lerma scored a consolation goal for Bournemouth in the 83rd minute. This game marked City's 200th away victory in the Premier League.
City dominated the game from the start, taking their chances and playing with great intensity. In the opening minutes, Foden's corner narrowly missed Rodri, who was lurking at the back post. Rodri then tried his luck from 35 yards out, but his effort flew over the bar. Foden, who was a constant menace, was crowded out as he looked to get a shot off. However, Alvarez scored City's first goal in the 15th minute, thanks to Rico Lewis's work in the build-up.
Guardiola's team doubled their lead on 29 minutes as Haaland scored his 27th Premier League goal, surpassing Sergio Aguero's record. City continued to pile on the pressure, with Foden scoring the third goal and Alvarez scoring the fourth. Bournemouth's Jefferson Lerma did score a consolation goal, but it was too little, too late.
This victory helped City maintain their 100% record against Bournemouth in the Premier League, winning all 12 games against the Cherries. City's first 100 away victories in the Premier League came in 337 games between 1992 and 2014, while their last 100 have taken just 157 games.
Manchester City's victory against Bournemouth was a remarkable one, and the team's intensity and ability to take chances made all the difference. It was a day of milestones, with Haaland surpassing Aguero's record and City recording their 200th away victory in the Premier League. With this win, City continues to establish themselves as a force to be reckoned with.