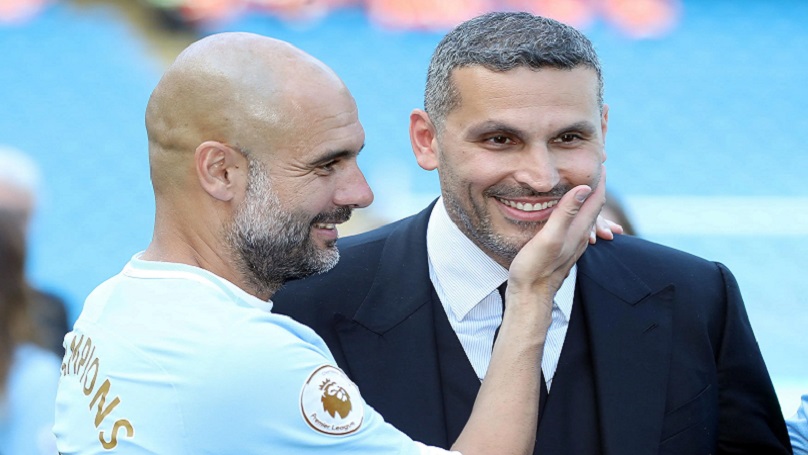 Manchester City Chairman – Khaldoon Al Mubarak says City's transfer business is not complete, with the Club aiming to make a couple of more signings before the start of the 2022/23 season.
The Premier League champions have already agreed a deal in principle with Borussia Dortmund for Erling Haaland, whilst Argentine striker Julian Alvarez will join up with Pep Guardiola's squad following the end of his loan spell at River Plate.
With recent rumours about a potential double signing of Kalvin Phillips, a midfielder for Leeds United and Marc Cucurella, a wide midfielder or left-back for Brighton & Hove Albion. The departure of Fernandinho and need for another left-back is a fuel to the signings and the Chairman admitted the Club remain keen to strengthen the team, suggesting more players could be brought in ahead of the new campaign.
"I can confirm that there will be more players coming in", he said.
"We are looking to strengthen the team in the areas that we need strengthening. As you know, every season some players leave, and then we have to continuously refresh the team. Again, we will always look at improving and strengthening. I think we've made two very important additions already, but I anticipate we'll be doing a couple more. We'll try to go as fast as we can, but you know how the market goes. It's not always entirely in our control".
The Chairman further confirmed City will only move for those we believe can improve Guardiola's championship-winning side.
"With Pep and with this team it's not just about filling a position", he added.
"We have reached a level of quality, a standard in which we cannot and will not compromise on quality. If we find the right player for that particular position, we will get that player and if not, Pep has shown us he will find solutions within the quality of the group we have and within the quality of the academy.
We're in a different position to the one we were in many years ago. We have so much talent available within the squad and the academy that when we need something, it's very specific and it's very deliberate. If we're able to bring that particular player, great, and if not, it doesn't mean anybody can fill it. We are in a different paradigm from that perspective".
Khaldoon Al Mubarak also believes the signing of Erling Haaland is evidence of City's strength on and off the pitch and Julian Alvarez an example of the hard work of our scouting team.
The Chairman says every major club will have been keen to sign Haaland and is confident City have got themselves a 'phenomenal' player who can deliver some great moments.
"Haaland, from his early days in Norway and then moving on to Dortmund, has been on our radar for at least four or five years", he explained.
"We've been following his progression over the years and seen his transition from a very talented, high quality, high potential young player to one of the most, if not the most, exciting striker in the world. He is a very, very unique, incredibly talented striker that I think the whole world has been looking at. I would say every big team in the world wanted [him] to join and we're absolutely delighted that Haaland chose to join Manchester City.
I think it's a testament to all the great work that's been happening at this club. It's a testament to the quality of this team and it's a testament to Haaland not just being a great player but I think a very smart player that saw the potential of what he can do and how he can develop further professionally, being part of this team, being coached by Pep Guardiola and with the infrastructure that we have.
The physical infrastructure, the training facilities, the stadium, and then, more importantly than all of that, the fans. I think he has a connection to the fans. I think for us, it's a super decision. We are getting truly, I think, a phenomenal player that will give us great memories".
Al Mubarak feels the capture of Alvarez in particular highlights the excellence of City's scouting department and will provide Guardiola with centre-forward options he has not had since the departure of Sergio Aguero.
"I think we can look back with a high level of confidence in the area we wanted to strengthen the most, which is that striker position", he said.
"We have in Haaland, arguably the best number nine in the world at the right age. In Haaland we have invested in that striker for the future, and in Alvarez I think we've found one of the most talented, young strikers in South America. Replacing Sergio is a big task. But it's not something we've not been preparing for, for a couple of years.
I think we have a very strong scouting system. Our scouting team has shown over the years, I think tremendous capability, in analysing and really scouting the type of talent that would fit our club and our team. You look at Julian Alvarez. I think this is an example of the hard work of our scouting team, a lot of weeks and months of follow up, analysis and then ultimately making the right decision at the right time when the market opened in the way that it opened. I am absolutely delighted that in the case of both Julian and Haaland we were able to come in early, [and] do our business early".