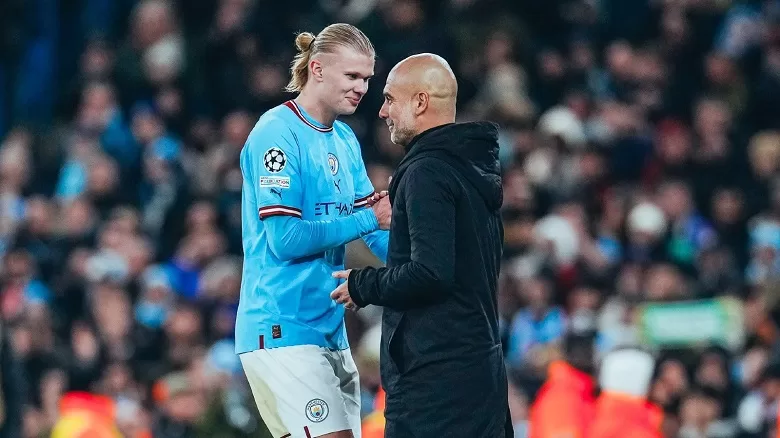 Manchester City delivered a stunning performance in the Champions League, securing a place in the quarter-finals for the sixth year in a row after beating RB Leipzig 7-0.
The esteemed City manager Pep Guardiola spoke highly of his team's exceptional display in his post-match reaction.
"Absolutely. Really good performance from minute 1 to the end – really good!" said Guardiola when asked about the dream performance. He praised his players for their outstanding performance both with and without the ball, adding that they "scored a lot of goals."
Guardiola also had words of admiration for the team's young superstar, Erling Haaland, who scored an impressive five goals in just 60 minutes of play. "Incredible guy, incredible mentality," said Guardiola. He added that Haaland's performance was a testament to his amazing talent and that he could have achieved even more had he played for the full 90 minutes.
Guardiola also had high praise for Kevin De Bruyne, who scored a late goal to cap off an already impressive night. "He's a fantastic extraordinary player," said Guardiola. He went on to say that when De Bruyne plays with the right rhythm, he can score goals and make assists, adding that the midfielder's dynamic play style requires him to constantly move.
Overall, the night was a memorable one for Manchester City, with Guardiola and his team relishing in their dominant performance. The team now eagerly awaits the draw to find out who their next opponent will be in the quarter-finals. With the level of play exhibited in this match, it's clear that Manchester City will be a force to be reckoned with in the next round of the tournament.