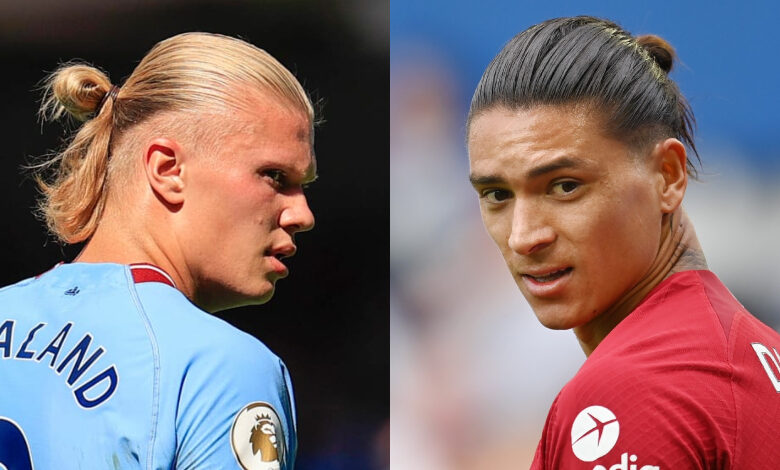 Manchester City will host Liverpool at the Etihad Stadium on Thursday in a Carabao Cup match that will end with one team progressing to the quarter-finals.
The match will commence on Thursday 22 December at 20:00 (UK) or 22:00 (CAT) and will be broadcast live in the UK on Sky Sports Main Event and Sky Sports Football. City supporters living around the globe can find out where they can access the game via Manchester City's international TV listings, from livesoccertv.com.
WHAT TO EXPECT
The rivalry between Liverpool and Manchester City has been going on for years now and it is one where both teams respect each other. Generations have passed and new ones have been birthed to carry on the battle, and on Thursday it will go down the Etihad Stadium in a Carabao Cup clash.
This will be a season resuming match for Man City following the international break due to the just ended FIFA World Cup which saw one of the Blues – Julian Alvarez emerge victorious with Argentina.
The last League Cup match City played against the Reds goes back to the 2015/16 final at Wembley Stadium, where City won an enticing penalty shootout.
Neither team could carve out a winning goal, after goals from Fernandinho and Philippe Coutinho meant the teams were even after 120 minutes.
In the thrilling penalty shootout that followed, Willy Caballero saved Adam Lallana's penalty, before Yaya Toure stepped up and calmly converted the winner to make it 3-1 and secure the Capital One Cup.
The last Premier League encounter between Manchester City and Liverpool ended up in a 1-0 defeat at Anfield in October, after Mo Salah's goal separated the teams at the final whistle.
PEP GUARDIOLA PREVIEW
Pep Guardiola says: "At the moment, we have four or five players, and we will have to wait and see how the others come back."
"But we just don't have players because the big brains of football decided this schedule and we are going to play this game (against Liverpool).
"Some players are coming back now and in the next few days and step by step, they will re-join their team-mates here.
"People are coming back soon. Nathan, Aymer, and Rodri, and later the players from the England and Portugal teams."
HOW CAN I WATCH CITY V LIVERPOOL ON TV
The following table shows how you can watch the Manchester City vs Liverpool Carabao Cup match wherever you are in the world, courtesy of livesoccertv.com.
| | |
| --- | --- |
| Algeria | beIN SPORTS CONNECT, TOD |
| Angola | DStv Now, Supersport Grandstand ROA, SuperSport Premier League ROA, SuperSport MaXimo 1, SuperSport MaXimo 2 |
| Anguilla | ESPN Caribbean, ESPNPlay Caribbean |
| Antigua and Barbuda | ESPN Caribbean, ESPNPlay Caribbean |
| Argentina | ESPN Cono Sur, Star+, ESPN Argentina |
| Aruba | ESPN Caribbean, ESPNPlay Caribbean |
| Australia | beIN Sports Connect, Kayo Sports, beIN Sports 1 |
| Austria | DAZN |
| Bahamas | ESPN Caribbean |
| Bahrain | TOD, beIN SPORTS CONNECT |
| Barbados | ESPN Caribbean, ESPNPlay Caribbean |
| Belize | ESPN Norte, ESPN Caribbean |
| Benin | SuperSport Premier League ROA, SuperSport MaXimo 1, Supersport Grandstand ROA, SuperSport MaXimo 2 |
| Bermuda | ESPN Caribbean |
| Bolivia | Star+, ESPN Cono Sur |
| Botswana | SuperSport MaXimo 2, DStv Now, SuperSport Premier League ROA, SuperSport MaXimo 1, Supersport Grandstand ROA |
| Brazil | ESPN, Star+, NOW NET e Claro, GUIGO |
| British Virgin Islands | ESPNPlay Caribbean, ESPN Caribbean |
| Burkina Faso | SuperSport MaXimo 1, SuperSport MaXimo 2, Supersport Grandstand ROA, DStv Now, SuperSport Premier League ROA |
| Burundi | Supersport Grandstand ROA, SuperSport MaXimo 2, SuperSport Premier League ROA, DStv Now, SuperSport MaXimo 1 |
| Cameroon | SuperSport MaXimo 1, SuperSport MaXimo 2, DStv Now, Supersport Grandstand ROA, SuperSport Premier League ROA |
| Canada | DAZN |
| Cape Verde | SuperSport MaXimo 1, SuperSport MaXimo 2, DStv Now, Supersport Grandstand ROA, SuperSport Premier League ROA |
| Cayman Islands | ESPN Caribbean, ESPNPlay Caribbean |
| Central African Republic | SuperSport MaXimo 1, Supersport Grandstand ROA, SuperSport Premier League ROA, SuperSport MaXimo 2 |
| Chad | SuperSport MaXimo 2, SuperSport Premier League ROA, DStv Now, beIN SPORTS CONNECT, Supersport Grandstand ROA, SuperSport MaXimo 1, TOD |
| Chile | Star+, ESPN Cono Sur, ESPN Chile |
| Colombia | ESPN, Star+ |
| Comoros | SuperSport MaXimo 1, SuperSport MaXimo 2, Supersport Grandstand ROA, SuperSport Premier League ROA |
| Congo | DStv Now, SuperSport MaXimo 2, Supersport Grandstand ROA, SuperSport Premier League ROA, SuperSport MaXimo 1 |
| Congo DR | SuperSport MaXimo 2, Supersport Grandstand ROA, SuperSport MaXimo 1, SuperSport Premier League ROA |
| Costa Rica | ESPN Norte, Star+ |
| Cote D'Ivoire | SuperSport Premier League ROA, SuperSport MaXimo 2, Supersport Grandstand ROA, SuperSport MaXimo 1, DStv Now |
| Cuba | ESPN Caribbean, ESPNPlay Caribbean |
| Cyprus | Cytavision on the Go, Cytavision Sports 3 |
| Czech Republic | Nova Sport 1 |
| Djibouti | Supersport Grandstand ROA, DStv Now, SuperSport MaXimo 2, TOD, SuperSport Premier League ROA, beIN SPORTS CONNECT, SuperSport MaXimo 1 |
| Dominica | ESPNPlay Caribbean, ESPN Caribbean |
| Dominican Republic | Star+, ESPNPlay Caribbean, ESPN Caribbean, ESPN Norte |
| Ecuador | ESPN Cono Sur, Star+, ESPN |
| Egypt | beIN SPORTS CONNECT, TOD |
| El Salvador | ESPN Cono Sur, ESPN Norte, Star+ |
| Equatorial Guinea | DStv Now, SuperSport Premier League ROA, SuperSport MaXimo 1, SuperSport MaXimo 2, Supersport Grandstand ROA |
| Eritrea | SuperSport Premier League ROA, SuperSport MaXimo 1, Supersport Grandstand ROA, SuperSport MaXimo 2, DStv Now |
| Ethiopia | DStv Now, SuperSport MaXimo 1, SuperSport MaXimo 2, SuperSport Premier League ROA, Supersport Grandstand ROA |
| France | Free, beIN SPORTS CONNECT |
| Gabon | SuperSport Premier League ROA, SuperSport MaXimo 2, DStv Now, Supersport Grandstand ROA, SuperSport MaXimo 1 |
| Gambia | SuperSport MaXimo 2, SuperSport MaXimo 1, DStv Now, SuperSport Premier League ROA, Supersport Grandstand ROA |
| Germany | DAZN |
| Ghana | SuperSport Premier League ROA, DStv Now, SuperSport MaXimo 1, SuperSport MaXimo 2, Supersport Grandstand ROA |
| Grenada | ESPN Caribbean, ESPNPlay Caribbean |
| Guadeloupe | ESPNPlay Caribbean, ESPN Caribbean |
| Guatemala | ESPN Norte, Star+ |
| Guinea | SuperSport Premier League ROA, Supersport Grandstand ROA, DStv Now, SuperSport MaXimo 2, SuperSport MaXimo 1 |
| Guinea-Bissau | SuperSport MaXimo 1, DStv Now, SuperSport Premier League ROA, Supersport Grandstand ROA, SuperSport MaXimo 2 |
| Haiti | ESPNPlay Caribbean, ESPN Caribbean |
| Honduras | ESPN Norte, Star+ |
| Iran | beIN SPORTS CONNECT, TOD |
| Iraq | TOD, beIN SPORTS CONNECT |
| Ireland | Sky Sports Main Event, Sky Sports Football, SKY GO Extra |
| Italy | DAZN |
| Jamaica | ESPN Caribbean, ESPNPlay Caribbean |
| Japan | DAZN |
| Jordan | beIN SPORTS CONNECT, TOD |
| Kenya | SuperSport MaXimo 2, SuperSport MaXimo 1, Supersport Grandstand ROA, DStv Now, SuperSport Premier League ROA |
| Kuwait | beIN SPORTS CONNECT, TOD |
| Lebanon | beIN SPORTS CONNECT, TOD |
| Lesotho | DStv Now, SuperSport MaXimo 1, SuperSport MaXimo 2, SuperSport Premier League ROA, Supersport Grandstand ROA |
| Liberia | Supersport Grandstand ROA, SuperSport Premier League ROA, SuperSport MaXimo 2, SuperSport MaXimo 1, DStv Now |
| Libya | TOD, beIN SPORTS CONNECT |
| Madagascar | Supersport Grandstand ROA, SuperSport MaXimo 1, SuperSport Premier League ROA, DStv Now, SuperSport MaXimo 2 |
| Malawi | Supersport Grandstand ROA, SuperSport Premier League ROA, SuperSport MaXimo 1, DStv Now, SuperSport MaXimo 2 |
| Mali | SuperSport MaXimo 1, SuperSport Premier League ROA, Supersport Grandstand ROA, SuperSport MaXimo 2, DStv Now |
| Martinique | ESPNPlay Caribbean, ESPN Caribbean |
| Mauritania | Supersport Grandstand ROA, SuperSport MaXimo 2, DStv Now, SuperSport MaXimo 1, SuperSport Premier League ROA, TOD, beIN SPORTS CONNECT |
| Mauritius | DStv Now, SuperSport MaXimo 2, SuperSport Premier League ROA, SuperSport MaXimo 1, Supersport Grandstand ROA |
| Mayotte | SuperSport MaXimo 2, SuperSport MaXimo 1, SuperSport Premier League ROA, Supersport Grandstand ROA |
| Mexico | ESPN Mexico, Star+ |
| Montserrat | ESPN Caribbean, ESPNPlay Caribbean |
| Morocco | TOD, beIN SPORTS CONNECT |
| Mozambique | SuperSport Premier League ROA, SuperSport MaXimo 1, SuperSport MaXimo 2, Supersport Grandstand ROA, DStv Now |
| Namibia | Supersport Grandstand ROA, SuperSport MaXimo 2, SuperSport MaXimo 1, DStv Now, SuperSport Premier League ROA |
| Netherlands Antilles | ESPN Caribbean |
| Nicaragua | Star+, ESPN Norte |
| Niger | SuperSport MaXimo 2, Supersport Grandstand ROA, DStv Now, SuperSport Premier League ROA, SuperSport MaXimo 1 |
| Nigeria | SuperSport MaXimo 1, DStv Now, SuperSport MaXimo 2, SuperSport Premier League Nigeria |
| Oman | TOD, beIN SPORTS CONNECT |
| Palestine | TOD, beIN SPORTS CONNECT |
| Panama | Star+, ESPN Norte |
| Paraguay | ESPN Cono Sur, Star+ |
| Peru | ESPN Cono Sur, Star+ |
| Portugal | Sport TV2, Sport TV Multiscreen |
| Puerto Rico | ESPN Caribbean, ESPNPlay Caribbean |
| Qatar | TOD, beIN SPORTS CONNECT |
| Reunion | SuperSport MaXimo 2, Supersport Grandstand ROA, SuperSport Premier League ROA, SuperSport MaXimo 1 |
| Rwanda | Supersport Grandstand ROA, SuperSport Premier League ROA, SuperSport MaXimo 2, SuperSport MaXimo 1 |
| Saint Barthelemy | ESPNPlay Caribbean, ESPN Caribbean |
| Saint Helena | SuperSport MaXimo 2, SuperSport Premier League ROA, SuperSport MaXimo 1, Supersport Grandstand ROA |
| Saint Kitts and Nevis | ESPN Caribbean, ESPNPlay Caribbean |
| Saint Lucia | ESPNPlay Caribbean, ESPN Caribbean |
| Saint Martin | ESPNPlay Caribbean, ESPN Caribbean |
| Saint Vincent and the Grenadines | ESPN Caribbean, ESPNPlay Caribbean |
| Sao Tome And Principe | SuperSport MaXimo 1, SuperSport Premier League ROA, Supersport Grandstand ROA, SuperSport MaXimo 2 |
| Saudi Arabia | TOD, beIN SPORTS CONNECT |
| Senegal | Supersport Grandstand ROA, SuperSport Premier League ROA, SuperSport MaXimo 2, SuperSport MaXimo 1, DStv Now |
| Serbia | Arena Sport 1P |
| Seychelles | DStv Now, Supersport Grandstand ROA, SuperSport MaXimo 1, SuperSport Premier League ROA, SuperSport MaXimo 2 |
| Sierra Leone | Supersport Grandstand ROA, SuperSport MaXimo 2, SuperSport Premier League ROA, DStv Now, SuperSport MaXimo 1 |
| Slovakia | Nova Sport 1 |
| Slovenia | Arena Sport 1 Premium |
| Somalia | TOD, SuperSport Premier League ROA, SuperSport MaXimo 1, SuperSport MaXimo 2, Supersport Grandstand ROA, beIN SPORTS CONNECT |
| South Africa | SuperSport MaXimo 1, SuperSport Premier League, DStv App, Supersport Grandstand, SuperSport MaXimo 2 |
| South Sudan | DStv Now, beIN SPORTS CONNECT, TOD |
| Spain | DAZN |
| Sudan | SuperSport MaXimo 1, DStv Now, SuperSport Premier League ROA, Supersport Grandstand ROA, beIN SPORTS CONNECT, SuperSport MaXimo 2, TOD |
| Swaziland | SuperSport MaXimo 1, Supersport Grandstand ROA, SuperSport MaXimo 2, SuperSport Premier League ROA, DStv Now |
| Switzerland | DAZN |
| Syria | beIN SPORTS CONNECT, TOD |
| Tanzania | DStv Now, Supersport Grandstand ROA, SuperSport Premier League ROA, SuperSport MaXimo 1, SuperSport MaXimo 2 |
| Togo | SuperSport Premier League ROA, DStv Now, SuperSport MaXimo 2, SuperSport MaXimo 1, Supersport Grandstand ROA |
| Trinidad and Tobago | ESPNPlay Caribbean, ESPN Caribbean |
| Tunisia | beIN SPORTS CONNECT, TOD |
| U.S. Virgin Islands | ESPN Caribbean, ESPNPlay Caribbean |
| Uganda | SuperSport Premier League ROA, DStv Now, Supersport Grandstand ROA, SuperSport MaXimo 2, SuperSport MaXimo 1 |
| United Arab Emirates | TOD, beIN SPORTS CONNECT |
| United Kingdom | Sky Sports Main Event, Sky Sports Football, SKY GO Extra |
| United States | ESPN+ |
| Uruguay | Star+, ESPN Cono Sur |
| Venezuela | Star+, ESPN, ESPN Cono Sur |
| Yemen | beIN SPORTS CONNECT, TOD |
| Zambia | SuperSport MaXimo 1, SuperSport Premier League ROA, Supersport Grandstand ROA, SuperSport MaXimo 2 |
| Zimbabwe | DStv Now, SuperSport Premier League ROA, SuperSport MaXimo 2, Supersport Grandstand ROA, SuperSport MaXimo 1 |