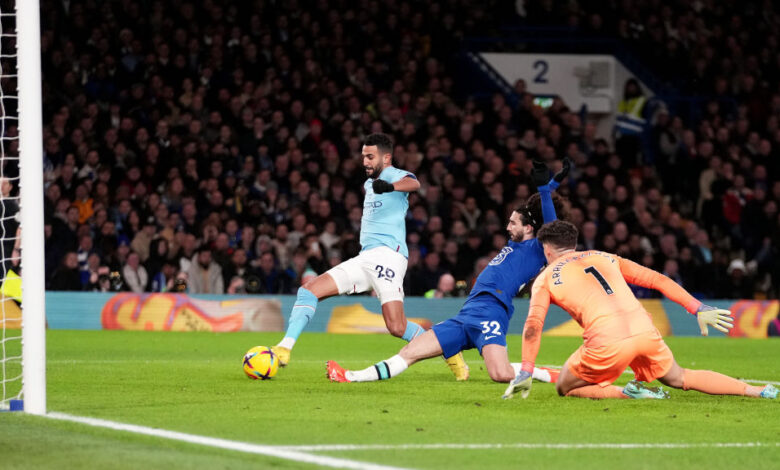 Manchester City emerged victorious at Stamford Bridge against Chelsea with a goal by Riyad Mahrez being the difference that separated the two teams in a Premier League clash.
The first half half proved to be difficulty for the Cityzens as they barely tested Kepa Arrizabalaga's goal keeping skills because they hardly recorded a shot on target.
However, in the second half Pep Guardiola introduced Rico Lewis and Manuel Akanji to replace Joao Cancelo and Kyle Walker respectively.
ALSO WATCH:
The substitutes made a significant difference with the pivotal ones being the introduction of Jack Grealish and Riyad Mahrez to replace Phil Foden and Bernardo Silva respectively later in the second half of the match.
In the 63rd minute, Riyad Mahrez opened City's scoring account by finishing a beautiful cross from Jack Grealish to inspire the Cityzens to a magnificent victory as this was the only goal in the game.
After Manchester City's 1-1 draw against Everton, a lot of the City fans criticized Pep's decision to bench Kyle Walker, Joao Cancelo and Phil Foden. But he did so because of their match fitness and sharpness following their World Cup spell.
The boss started Rico Lewis, Manuel Akanji and Jack Grealish in the Everton Premier League match instead but most fans blamed the manager for the result.
In response to the fans, Pep Guardiola gave the fans a starting line-up they wished for against Chelsea by starting Walker, Cancelo and Foden instead of Lewis, Akanji and Grealish.
He said: "Everybody asked for this Man City line-up, I follow my fans! We're not going to discover what they mean, they come back from World Cup with niggles, Rico [Lewis] and the other guys have been fantastic…" .
However, things did not work out well in the first half until he introduced the trio of Rico Lewis, Manuel Akanji and Jack Grealish in the second half.
This only proved that the City manager knew what he was doing and hopefully the City fans can learn from this and put their trust more in Pep Guardiola.
WHAT IT MEANS
Manchester City are now getting closer to Premier League leaders – Arsenal as they reduce the gap to 5 points behind. The title race is still on and it is one anticipated to keep going until the final league game.