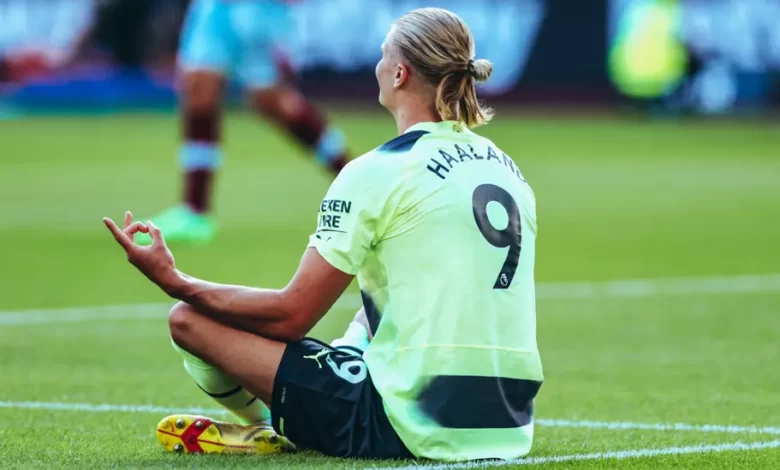 Erling Haaland was one of the most anticipated summer signing for Manchester City and he was delightfully received by the City fans.
Haaland arrived from Borussia Dortmund in the summer just after City's first signing Julian Alvarez – another exiting young striker. The Norwegian's Man City signature sparked a lot of conversations among football fans and the majority were critics.
A lot of people emphasized that Haaland will not succeed at Manchester City due to their playing style and the competitive nature of the Premier League. Coming from the Bundesliga which has lesser competition than the English Premier League, the critics were sure of his failure.
Erling Haaland made his competitive debut on 30 July, playing 90 minutes in a 3–1 defeat to Liverpool in the 2022 FA Community Shield. In this game, Haaland missed an open goal as his shot went over the bar and this caused a lot of criticism on social media.
However, the 22 years old striker paid a deaf ear to the critics and focused on adapting and improving his overall game. Most players take longer to settle in the Premier League due to the physical needs and others just fail and are shipped off to other leagues.
Neither was the case for Haaland because he adapted quickly and silenced all the criticism. On 7 August, he scored two goals on his league debut in a 2–0 away victory against West Ham United. This is the mark where his Manchester City career took off and it has never stopped since then.
On 27 August, Haaland scored his first Premier League hat-trick in a 4–2 victory against Crystal Palace, and scored his second, a perfect hat-trick, four days later in a 6–0 win against Nottingham Forest, making him the quickest individual in Premier League history to score two hat-tricks, beating the previous record by 14 matches; he was later voted Premier League Player of the Month for August, his first month playing in the league. [Wikipedia]
Erling Haaland went on to break multiple records such as becoming the first player to score 25 goals in 20 Champions League appearances after scoring two goals against Sevilla in his UCL debut for City. Other records include;
2nd October: Haaland became the first player in Premier League history to score a hat-trick in three successive home games in City's 6–3 win against Manchester United, in which he also got two assists.
Became the quickest player in Premier League history to score three hat-tricks, doing so in eight league games and beating the previous record of 48 league games, set by Michael Owen in 1998, as well as halving Alan Shearer's record of scoring three hat-tricks in a 10 game spell in the 1994–95 season.
And now, Erling Haaland has scored twenty three (23) goals and provided three (3) assists for Manchester City in just eighteen (18) appearances for the Blues. 
Watch All Manchester City Goals And Assists By Erling Haaland Via The Video Below: