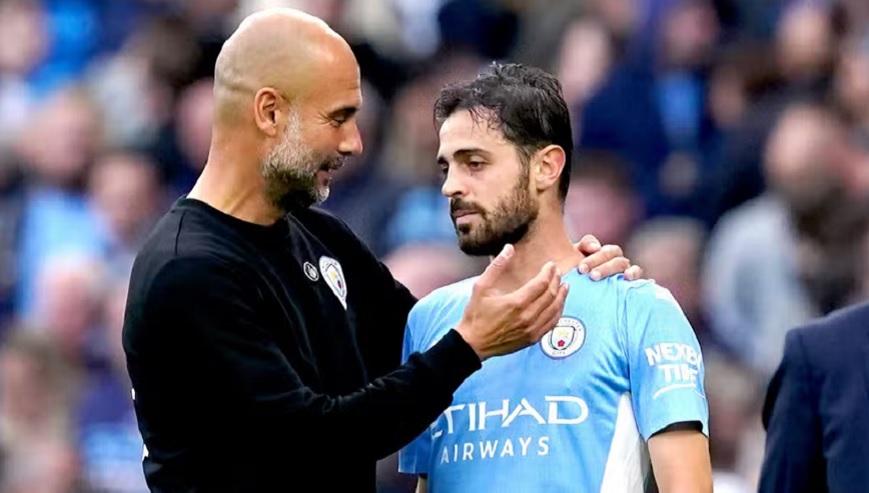 Pep Guardiola: I would love to have Bernardo continue here – he is a special player.
Amid multiple transfer rumours about Bernardo Silva with a link to Barcelona being the most prominent one, Pep Guardiola has expressed his wish for him to stay at City as he believes he is a special player.
"I would love to have Bernardo continue here – he is a special player in the locker room – but honestly I don't know what will happen," he explained at his pre-match press conference.
"If he stays it is perfect. If in the end he has to leave it is because football is like this, the clubs are in agreement and the player has desires. I would not stop the desire of people. When you are a football player, it is so short. You don't realise and then immediately it is over.
They have to talk to the club and I am never involved in that. And when the club decides, for me it is okay. All the time we are here every week together, I say I want the best for the players. I want Bernardo to stay, definitely. Finding players is difficult. 100%, I want Bernardo to stay here.
But at the same time, if you want to leave, you have an offer and the clubs have an agreement…it's common sense what I said. I did not say nothing special. This is reality. He is an important player for me. Bernardo is special but I don't know what will happen. Manchester City, as far as I know, we did not get an offer, last season neither."
Guardiola also revealed he has not spoken to Bernardo about his future. He has been pleased with Bernardo's efforts ahead of this weekend's Premier League opener against West Ham and is confident he is happy in Manchester.
"Bernardo is training really well and is ready for Sunday," he added.
"I talk a lot with Bernardo and all of them. Maybe because I am getting old and we know each other quite well. Maybe now our relationship is completely different to three or four years ago. I am more relaxed as a manager with them. I know them already – the feelings they have, their good moments and bad moments. So I talk to them but not especially about this situation.
If I have something, I will tell him and if he has something to tell me, he will tell me. I don't have doubts about this. We don't talk about this situation. He is our player, I know he is happy, he is engaged, he has a beautiful dog. He is happy here, I know that. What is going to happen is going to happen."
WATCH THE FULL PRESS CONFERENCE BELOW: