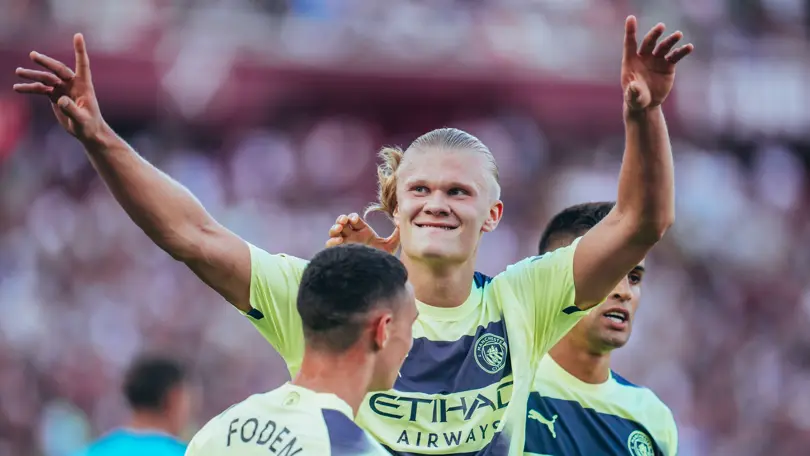 Manchester City kick off the season with a scintillating victory against West Ham in their first premier league game.
Manchester City proved to be ready for the new season with a massive victory at West Ham. Erling Haaland bagged a brilliant brace of goals on his Premier League debut as City's defence of the league title got off to a flying start.
In what was a superb all-round performance by Pep Guardiola's reigning champions, Haaland gave City a deserved 36th minute lead from the penalty spot with what was the very first shot on target of his Premier League career.
The Norwegian centre forward then doubled down on a dynamic debut display by firing home from Kevin De Bruyne's pinpoint, precision pass on 65 minutes to seal a deserved win. The feat saw Haaland become only the second City player to score a brace on his Premier League debut following Sergio Agüero in August 2011.
Erling Haaland's brace secured the three points at the London Stadium and he's keen to see more of the same from City. Speaking in a post-match interview, He expressed how proud and delighted he is after an 'Important star' vs West Ham
"It was a proud moment for me and my family, yeah I'm happy," he said.
"It was hard, the first game is of course hard. It was hard but it was good to make by debut. We have to build on what we did today. I feel good, there's good people around me helping me a lot, I'm happy, I'm smiling and I'm training good. It's important to win these types of games. It's an important start and we have to build on it."
"It was good. [It was a] good start there is nothing much to say other than that and it was 2-0. Good start," he reflected.
"It was good to get some minutes in the legs, it's still early in the season and we have to keep going. As expected we saw the potential already against Bayern [Munich in pre season] and it was a little bit down against Liverpool. It will come with games, the passes will come, it should have been more today. A good start."
Haaland almost completed a hat-trick shortly after his second goal, but his header from Jack Grealish's powerful cross went over the bar. The striker believes there could have been more goals and also noted his delight that his dad, City legend Alfie Haaland, was present to see his brace.
"Yes. If you saw the Gundogan moment I should have been there [to connect with Ilkay Gundogan's cross]," he admitted.
"It's about the connections we do everyday in training and practicing so we get better and this will come even more, so I'm not worried. There were some good celebrations so I'm happy. Nice that he [Dad – Alfie] saw both goals as it is a big moment for me as a debutant in this competition. We have to keep going. Also now it is almost 30 minutes since I scored the last goal so I have to keep going."